Manchester City's Mario Balotelli backs firework safety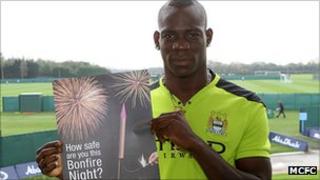 Manchester City striker Mario Balotelli has stressed the importance of firework safety following his own experience of the danger they can cause.
Firefighters were called to his Cheshire home on Saturday night after an explosive set alight his bathroom.
The Italian said he wanted to stress fireworks can be "very dangerous".
The striker, who scored twice in City's 6-1 victory over rivals Manchester United on Sunday, said "people should follow the firework code".
He also said that reports of what had happened at his home in Mottram St Andrew had been incorrect.
'Really stupid'
"The newspapers got the story wrong about me and the fire at my house," he said.
"I didn't set any fireworks off, it was a friend of mine.
"I didn't know anything about it until I heard the shouting coming from the bathroom.
"Luckily, nobody was injured, and my friend apologised to me for the damage to my house.
"It was a really stupid thing for him to do, someone could have been really hurt, and I was really, really angry with him about it."
Why always me?
Balotelli made reference to the various controversial incidents he has been involved in since joining City in August 2010 when he scored the opening goal at Old Trafford on Sunday.
The Italian, who was signed in a reported £24m deal from Inter Milan, lifted his shirt to reveal a T-shirt bearing the slogan "Why always me?".
In March, City officials launched an investigation after Balotelli threw a dart towards a youth team player at the club's Carrington training ground.
He has also reportedly picked up thousands of pounds in parking fines since his arrival in Manchester, and his attitude has been called into question by manager Roberto Mancini.
The striker's safety advice comes as Manchester launched its annual Treacle fireworks campaign.
The Treacle initiative includes input from Greater Manchester Fire and Rescue Service, Greater Manchester Police, Greater Manchester Authorities, Trading Standards, Transport for Greater Manchester, Greater Manchester Chamber of Commerce and the Health and Safety Executive.