Fiji death parents say travel safety 'must become law'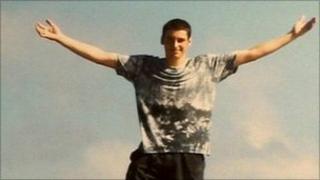 The parents of a teenager killed on an adventure holiday have called for a voluntary safety code to become law.
Luke Molnar, 17, from Manchester, was killed on the Fijian island of Tokoriki in 2006 after touching a metal washing line attached to an electric cable.
Gill and Steve Molnar are meeting with the Minister for Consumer Affairs Ed Davey to discuss the regulations governing adventure travel companies.
Mrs Molnar said there was a "lack of legislation, especially for minors".
Since Luke's death in 2006 a new set of guidelines - labelled BS 8848 - has been introduced by the British Standards Institution (BSI).
Mrs Molnar said that while the guidelines were "a very, very good standard", British travel companies were "self-assessing".
She said she wanted the guidelines to be made law so that companies could be "judged by an independent third party".
"What we're trying to do is to ensure companies do comply with this standard and that they've been accredited, that website claims correspond to what they actually practice and that risk assessments are properly carried out," she said.
"There's also a second element of staff training.
"It's all very well that staff are well-trained, but they need the experience and the knowledge of the area that they are in.
"You might be a very well-qualified paramedic or nurse, but if you don't know the surrounding area, then it is not good enough."
'Very determined'
The London-based company which ran the trip Luke was on, Coral Cay Conservation, were criticised by the Stockport coroner who dealt with the teenager's inquest in April.
John Pollard said its safety arrangements were "weak, ineffectual and of very little use".
The company had produced literature saying the trips would have medical support, but in fact the nearest doctor was on another island, and the expedition leader said at the inquest that she had not had any health and safety training.
In a statement on their website, the company said the tragedy had "shocked and saddened the whole organisation".
The company declined to comment on the Molnars' campaign.
Mrs Molnar, who will meet Mr Davey in Westminster later with her husband, said that she owed it to her son to keep fighting for change.
"It is going to be difficult, but we are very determined and we're not prepared to let this go," she said.
"If we don't take one step on the ladder to try and sort this out, then we don't fulfil our duty to Luke."
In July, an electrician who wired up the camp was found guilty in Fiji of the manslaughter by unlawful omission of the Stretford teenager.