Soldier Liam Bretherton jailed over 'riot guitar'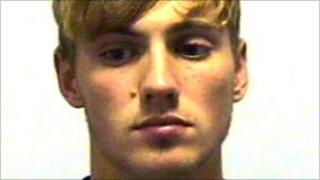 A soldier from Greater Manchester has been jailed for eight months after trying to sell a guitar that had been stolen during August's riots.
Liam Bretherton, 20, bought the guitar for £20 from an unknown man in Manchester city centre, during the height of the disorder on 9 August.
He was arrested two days later as he tried to sell the instrument at a music shop in his home town of Leigh.
He was sentenced to eight months in jail at Manchester Crown Court.
Bretherton bought the Gibson Les Paul guitar, which had an estimated value of £2,000, from a looter in the street.
It had been taken from Dawson's music store on Portland Street shortly before.
Locked him in
The soldier, a member of the 7th Parachute Regiment Royal Horse Artillery, took the guitar into a music shop in Leigh two days later.
As he attempted to sell the instrument, the shop owner became suspicious, locked him in and called the police.
The court heard that the "colour drained from [Bretherton's] face", and he said to the shop owner: "I'm in the Army."
Bretherton's counsel had pleaded for a suspended sentence, as any jail term would lead to him being kicked out of the armed force.
However, Judge Anthony Gee QC said he would be "failing in [his] duty" to impose anything but immediate custody.
The judge added: "You have to face the consequences of what you did and what you did amounts to a very serious offence.
"I regard yours as an extremely sad case. It is sad because you are a young man who all that know you have spoken highly of.
"But you well know that courts dealing with cases like this have a duty and obligation to punish those involved, and deter others who may be minded to act like you did in the future."
Bretherton, of Larch Road, was told he would serve half his sentence in a young offenders institution before being released.