Vincent Cooke not charged over death of alleged burglar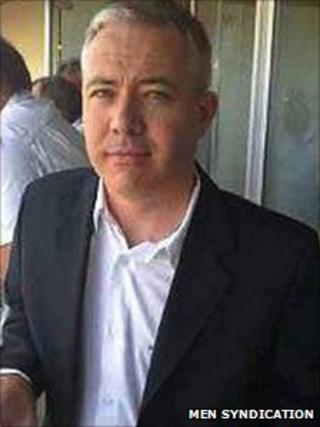 A man who fatally stabbed an intruder during an alleged burglary at his home in Greater Manchester will not be charged over the death.
Vincent Cooke, 39, stabbed Raymond Jacob, 37, during a struggle in Bramhall on 17 September.
The Crown Prosecution Service said he would face no charges having ruled that he acted in "reasonable self defence".
In a statement read by his solicitor, Mr Cooke said: "I will never forget the day that I had to fight for my life."
He added: "It has been a living nightmare for me and my family and I'm still suffering flashbacks of the incident.
"I am most relieved that the CPS have decided not to charge me with any offence."
He added: "I would like in due course to be able to thank everyone personally, however as there is a person awaiting a court hearing concerning this matter I have been advised not to make any further comments at this time."
His solicitor Kieran Henry said the incident had changed Mr Cooke's life and added: "They have had to move their whole roots away from the area. They have a beautiful house and home."
Nazir Afzal, chief crown prosecutor for the North West area, said: "It is clear to me that Mr Cooke did what he honestly and instinctively believed was necessary on that day to protect himself, his home and his family from intruders."
The prosecutor said evidence showed Mr Cooke had been taken upstairs at knifepoint, and that during a struggle with Raymond Jacob, he had stabbed the intruder.
"At the time he was in fear for his own safety and the safety of his wife and son, who arrived at the house as the incident was happening," Mr Afzal added.
Ch Supt Rebekah Sutcliffe, from Greater Manchester Police, said: "When presented with the circumstances of that evening the correct decision was to make the arrests.
"It was crucial that we conducted a thorough and open-minded investigation into the events.
"I am satisfied that we provided the full facts of the case to the CPS to enable them to make an appropriate decision."
Following the incident, the family of known offender Mr Jacob later said they had been "distressed" at the events and supported the police inquiry to find out what happened.
Michael Anthony Thorpe, 33, of Outwood Road, Heald Green, Stockport, was later arrested and charged with aggravated burglary.
He is accused of entering Mr Cooke's house armed with a knife, and is expected to stand trial at Manchester Crown Court on 2 December.
It is the third time in Greater Manchester in recent months that self-defence has been deemed acceptable after a suspected intruder has been killed.
In July, the CPS announced no action would be taken against Peter Flanagan, 59, who was accused of stabbing suspected burglar John Leonard Bennell, 27, to death in Salford.
Prosecutors ruled that Mr Flanagan had used "reasonable force" during the incident.
Shopkeeper Cecil Coley, 72, was arrested in July after Gary Mullings suffered fatal wounds during a struggle at his florist shop in Old Trafford.
No charges were brought against Mr Coley after it was determined he acted "in reasonable self-defence".