University of Salford opens at MediaCityUK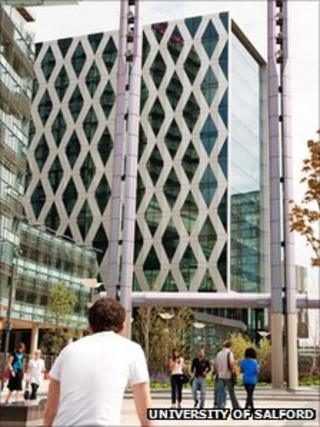 The opening of the University of Salford's MediaCityUK base is a "major achievement", its director has said.
Jon Corner said the institution's place in the new complex would let students "rub shoulders with some of the best creative and technical minds".
The university shares a building with broadcaster ITV, which stands alongside three new BBC blocks.
The facility, which opened on Tuesday, will host a variety of courses in subjects like journalism and animation.
The university said the opening at MediaCityUK was the "culmination of an intense four-year project".
Facilities available to students include TV and radio studios, editing and post-production suites, a digital media and performance lab and dubbing theatres.
The new arm of the university has been praised by internet search engine Google's managing director in the UK and Ireland, Matt Brittin, who visited on the eve of the official opening.
He said he "would love to be a student here if time travel was possible".
Congratulating the university on their vision of future educational needs, he also said "mixing students and lecturers from the arts and science faculties is the right way to go".
"The traditional education system is 150 years out of date and we need to bring the 'geek' and the 'luvvie' together," he said.