Manchester bid to give Yuri Gagarin statue a home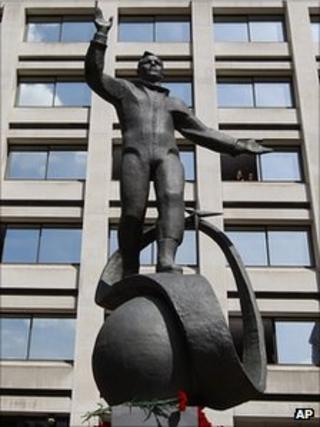 An amateur astronomer has launched a bid to give a statue of cosmonaut Yuri Gagarin a permanent home in Manchester.
Gurbir Singh, author of a book about the Soviet's 1961 visit to Britain, wants the artwork to commemorate the Manchester leg of that trip.
Mr Singh claimed Col Gagarin would have chosen Manchester for the statue.
The artwork, which celebrates the cosmonaut's pioneering 1961 flight, must move from its site near the British Council in London in July 2012.
Col Gagarin made his only visit to the UK in July 1961, two months after becoming the first human to travel into space and orbit the Earth.
He was invited to the country by the leaders of the Manchester-based Amalgamated Union of Foundry Workers, as he had trained as a foundry worker before joining the Soviet military.
Mr Singh said the cosmonaut left London once during his five day visit, spending a day in Manchester and Trafford at the union's headquarters, the Metropolitan Vickers site in Trafford Park and Manchester Town Hall.
He said that it was this day that the Soviet had found most fulfilling.
"When I researched Gagarin's five days in Britain and spoke to many who met and saw him, it became clear that his time with the working people of Manchester was the experience he enjoyed the most," he said.
"If it was up to Gagarin where his statue should be sited, he would choose Manchester."
The statue, a gift from the Russian space agency Roscosmos to the British Council, was unveiled in London on 14 July by Col Gagarin's daughter, Elena Gagarina.
Planning permission for a temporary 12 month siting was granted, which has left the British Council needing to find a permanent home for it by July 2012.
The British Council's Andrea Rose said that Mr Singh's bid was one of four she had received, with the other three being at undisclosed locations.
She said she was "delighted that Manchester has thrown its hat in the ring".
Mr Singh said that a decision on where the statue would be put if his bid was successful had yet to be made, but that possible sites in the city centre and at Trafford Park were being considered.
A decision on the permanent site for the statue will be made by the end of 2011.