'No violence tolerated' at Manchester protest - police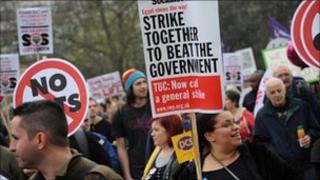 Police have warned anyone planning to cause trouble at a trades union march in Manchester that robust action will be taken against them.
Some 30,000 people are due to take part in the TUC's March for the Alternative against government spending cuts on Sunday.
The demonstration through the city centre is timed to coincide with the start of the Conservatives' conference.
Greater Manchester Police say they expect the march to go off peacefully.
Assistant Chief Constable Ian Hopkins said: "We are planning for a peaceful protest which allows people to exercise their democratic right.
"We have been working closely with the organisers. The TUC is very experienced at events like this."
He added: "The police, the courts and the public will not tolerate violence or disorder.
Extra officers
"We have seen that from the arrests we have made following disorder in August and stiff sentences handed out by the courts."
Greater Manchester Police is deploying 1,000 officers for the march, in addition to extra policing for the conference.
Marchers will walk along Deansgate, John Dalton Street, Princess Street, Portland Street, Oxford Street, Hall Street, Bale Street before a rally at Number One First Street.
Two other smaller marches will also be feeding into the main demonstration.
Salford TUC will be marching from Salford Crescent into the city centre, via Bexley Square.
And up to 5,000 students are due to leave the university in Oxford Road and meet other demonstrators in Liverpool Road.
Police have also prepared for other groups, including Occupy and UK Uncut.
The Conservative Party conference is due to be held at Manchester Central from Sunday until Wednesday. It is estimated it will generate £27.4m for the city's economy.