Manchester prison and workhouse archives go online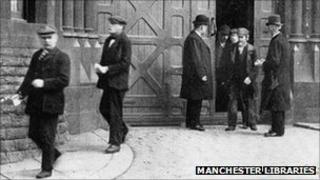 More than one million prison, workhouse and school archives from institutions across Manchester and parts of Lancashire have gone online.
Records going as far back as 1700 include baptism and birth registers, cemetery and death records, marriage registers and apprentice records.
Some of the prison records show harsh penalties.
People caught in the 1700s stealing a piece of coal would be sentenced to seven days hard labour. A boy aged 10 was given five years detention in 1901 for associating with bad companions and truancy.
Handwritten records
The records have been published online by findmypast.co.uk following a two year project to scan and transcribe the original handwritten records.
The Manchester Collection highlights criminals whose crimes include murder, stealing, and casually knowing - a Victorian euphemism for rape.
Cases include John Alty, 21, who was sentenced to 15 months hard labour in 1866 for indecent relations with a pig, and Joshua Lomas, 36, who was sentenced to one month in prison or the fine of £2 for driving a contagious cow along a highway in 1870.
Kevin Bolton, the principal archivist at Manchester City Council's Libraries, Information and Archives helped collate all the information. He said: "These records will give a lot more information than the census.
"In prison records you get a lot of detailed information - you might get a physical description and details of what they've done previously."
These records index the years 1847-1881 and cover Belle Vue Prison, New Bailey Prison, Salford and Strangeways.
They include James Burrows - the first person to be executed for murder at the New Bailey Prison on 25 August 1866, aged 18.
The oldest felon discovered was 91 years old and the youngest just seven.
Repeat offenders were common and it is possible to trace their criminal careers. One woman was recorded 20 times over 14 years - she was blind in her left eye and had a pockmarked face, making her easily identifiable in the records.
Pockmarked face
The records also include industrial schools, set up in the middle of the 19th Century to provide lodging for destitute children. They were intended to prevent vulnerable children from falling into criminality.
They would be educated and taught a trade or be sent there for rehabilitation following an anti-social act.
One such case involves Joseph Marsh, 10, who was convicted for associating with bad companions and truancy on 3 October 1901.
He was sentenced to five years and four months detention at Ardwick Green, Manchester.
In his record he is described as being 4ft 5in high (1.3m) and 65lb (29kg), with a fair complexion, broad nose, having very light hair with blue eyes. He had five vaccination pits on his left arm.
He could read, write and calculate and his mental capacity was said to be good.
After his time at the school, he enlisted in the army and went on to have a successful army career.
Mr Bolton added: "In a way if you're lucky enough to have your ancestor in prison or an industrial school, you can now find out more information than you would have if your ancestor led a relatively normal life."