Manchester City striker Carlos Tevez fined for speeding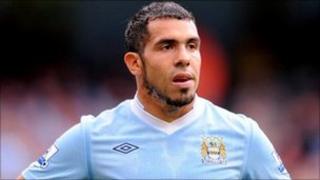 Manchester City striker Carlos Tevez has been fined £60 after admitting speeding in his Bentley.
The 27-year-old, who did not attend the hearing at Oldham Magistrates' Court, admitted driving at 38mph in a 30mph zone in Stretford.
He was accused of failing to disclose the identity of his car's driver but the Crown Prosecution Service did not proceed after he admitted speeding.
The player also received three penalty points on his licence.
'Missing notice'
The Argentinian was clocked on 13 November on the A56 shortly after Manchester City's home 0-0 draw to Birmingham City.
Magistrates heard at an earlier hearing that Tevez denied seeing the penalty notice.
He claimed that his advisers, who dealt with most of the post to his home in Prestbury, Cheshire, could not categorically say the letter did not arrive.
Glyn Lewis said his client had "lost out" on the opportunity of going on a speed awareness course instead of three penalty points because of his administrative failure to respond to the penalty notice.