Man arrested after Manchester Airport security alert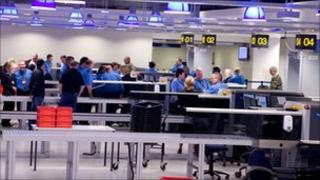 A man questioned over a security alert at Manchester Airport prompted by a suspicious bag has been arrested on suspicion of having a false passport.
The man, believed to be 59 years old, remains in police custody.
Bomb disposal experts were called at 08:30 BST when security officials raised the alarm in the main search area of Terminal 1.
More than 1,800 passengers and 500 staff were evacuated from the terminal but were allowed to return later.
Police evacuated the building at 10:20 BST when a suspicious device was discovered in the hand luggage of a male passenger.
A cordon was placed around Terminal 1 while the device was examined. Police have now confirmed it was a false alarm.
'All clear'
Supt Phil Davies, police commander at the airport, said: "We were alerted to something that appeared to be a suspicious device and as a precaution we evacuated Terminal 1.
"This incident shows that the security measures we have in place are effective and play an important role and when we get a security alert like this we will leave nothing to chance.
"The safety of passengers, staff and airport users is our primary concern.
"We are working closely with the airport to resume normal business at Terminal 1, and we need to do this in a safe but swift manner."
All clear
An airport spokesman said police gave the "all clear" at 12:10 BST.
He added: "We encourage passengers to contact their airline for the latest information if travelling today."
Eleven Terminal 1 departures were grounded in total, although arriving flights were not affected.
Terminals 2 and 3 operated normally.