Salford construction workers protest at MediaCityUK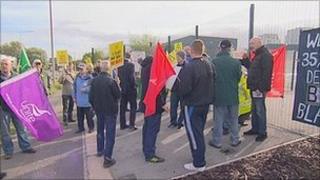 About 100 construction workers in Salford have protested over claims employers are reducing pay by up to 30%.
Members of the Unite union demonstrated outside the MediaCityUK Salford.
It was part of a series of UK protests against construction companies who Unite allege have issued new agreements with inferior terms and conditions.
The eight construction companies involved said they "strongly deny" claims they are making wage cuts.
Balfour Beatty, Crown House Technologies, Spie Matthew Hall, Shepherd Engineering Services, NG Bailey, Gratte Brothers, Shepherd Engineering Services and T.Clarke Plc are introducing the Building Engineering Services National Agreement (BESNA) for sub contractors.
Liane Groves, from the union, said: "Employers want to de-skill grades which is a massive attack on skills in the industry.
"Workers have to sign new contracts and face losing 30% pay or face the sack."
Ms Groves added: "The protest was to send a message that they are not going to accept it."
In a joint statement from the eight contractors, a spokesman said the agreement was designed to standardise terms and conditions in the industry and denied it would result in pay cuts.
The spokesman said: "The pay grades of electrical operatives will be unchanged. The pay rates of mechanical and plumbing operatives will be standardised in line with the existing electrical rates of pay.
"Many other terms and conditions for operatives will remain unchanged and in some cases will be more attractive to workers."
The BBC, ITV, Coronation Street, Satellite Information Services and the University of Salford are to be based at MediaCityUK.