Knutsford juggler brings Moscow State Circus home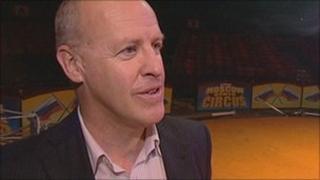 Paul Archer left his Cheshire home at the age of 16 determined to make his name as a circus performer.
Thirty-three years later, he has returned to Knutsford with a circus career behind him and as director of one of the world's most famous troupes, the Moscow State Circus.
It has been a long and varied journey for Mr Archer, but he says it started as a child on parkland in his former home town.
"The first time I ever saw a circus was on the Knutsford Heath when I was about six years old.
"It was sheer excitement, I'd discovered the circus.
"I was captured by the complete spectacle of it and the magic; the fact that it appeared overnight, held performances and then was gone again, with just a bit of sawdust on the ground in memory of it."
That spectacle enthralled him to such an extent that he decided that when he grew up, he would join a circus.
Bedroom practice
He says he soon started to teach himself to juggle, a talent which would go on to help him secure his place in the ring.
"I was fascinated by all aspects of the circus, but something I could take up readily was juggling.
"I picked up some juggling balls and started practising in my bedroom.
"Juggling became four, five hours a day, with my mother looking on in shock and horror that I was going to spend a lot of time doing this."
By his 16th birthday, he was proficient, but he says what really allowed him to become a top class performer was a chance meeting in Weston-super-Mare.
"I bumped into a juggler at a bus stop, who was also a historian of juggling.
"He had old cut-outs of some very famous jugglers - he showed me them all and then gave them to me.
"It was mind-boggling, the things I saw, and that inspired me to greater things."
Into management
Mr Archer went on to perform as a juggler for a decade, before deciding to make the move out of the spotlight and into the management side of the business.
"I got into marketing and promoting circuses and managing different aspects, not only in the UK, but around the world."
He says that he knew exactly which circus he wanted to work with most and was elated when he secured himself the front of house manager job for the Moscow State Circus, which he says, "as a child growing up, was the biggest spectacle ever possible".
Working his way through the ranks, he became general manager within a few years of joining.
In that role, he met his current artistic director and wife Irina, who was working as a dancer and gymnast, and then the opportunity came early in 2011 to buy the UK rights for the travelling show.
He says it was too good a chance to pass up, especially as it has given him chance to bring it back to where his circus odyssey all began.
"It's like coming full circle for me - it's been a long road, but I've finally made it.
"I'm very proud to be bringing this circus back to my home town."