Manchester City unveil 80-acre Etihad Academy plan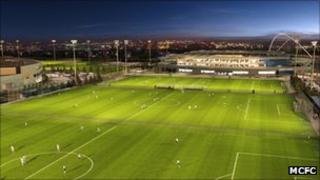 Manchester City has unveiled plans for a footballing academy and training complex in the east of the city.
The proposed youth development and first team academy in Openshaw will be built on an 80-acre brownfield site next to the Etihad Stadium.
It will include 17 pitches and a 7,000 capacity stadium for youth matches.
The club's Chief Football Operations Officer Brian Marwood said it would give "significant regenerative and economic benefits" to the area.
The complex, which is yet to be given the go-ahead by Manchester City Council, is to be built on land that the club has purchased in the area over the last two years.
Forming a large part of what Manchester City is calling the Etihad Campus, it will cater for up to 400 young players, 40 of whom will be accommodated and schooled on site.
The club has said that the complex will benefit the local area in economic terms, creating around 160 jobs during its construction and a further 90 on its completion.
It has also promised an environmental improvement with the planting of several hundred trees around the site.
'Successful and sustainable'
The plans follow a six-week public consultation period, which saw 7,000 people offer their views on the proposals.
Mr Marwood said the club was "delighted that so many people have taken part in our public consultation".
"The feedback we have received points to a wide recognition by both local residents and fans of the significant regenerative and economic benefits of these proposals for the East Manchester area, which should not be underestimated.
"It is important to also make clear that the development and recruitment of youth talent is at the heart of our long term strategy of building a successful and sustainable football club for the future.
"The opportunity to build a world class facility supported by a well researched youth development plan would be a significant step in the realisation of that strategy."
Sir Richard Leese, leader of Manchester City Council, said he was particularly pleased with the community aspects of the plan, which will see around 5.5 acres put aside for community usage, including the possible building of a new swimming pool.
He said he welcomed "the principle of this proposed development which reflects not only the needs and priorities of the football club, but recognises and reflects the community's priorities too".
"It's a welcome demonstration of the club's commitment to the area and a boost for East Manchester and the city as a whole."