Greater Manchester 'military-style' school proposed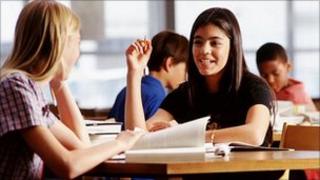 Plans have been revealed for a free school staffed by former servicemen and women in Greater Manchester.
The Centre for Policy Studies (CPS) said children could be taught using military-style discipline.
The plan's authors claimed the school would "keep kids out of gang culture".
Tom Burkard, from the CPS, said the proposed "Phoenix Free School" would use qualified and unqualified teachers, because "teacher training is basically training young people not to teach".
A report called Something Can Be Done has been produced by Mr Burkard and serving officer Captain AK Burki.
Mr Burkard, a former school teacher and a military instructor, said: "You are told to be a learning facilitator and teach children to manage their own learning.
"An undergraduate has enough trouble managing their own learning - take an illiterate pupil growing up in an inner-city estate, to expect them to manage their learning is in the realms of fantasy."
'Enlisting enthusiasm'
If the plans went ahead, Mr Burkard said the school would also use military-style discipline, which he said many people were opposed to because they did not understand it.
"Most people in this country think of military discipline from the standpoint of what it was like under national service," he said.
"If you have to use your sticks all the time, you are doing something wrong.
"The job of the officer and the NCO is to enlist the enthusiasm to perform difficult tasks under demanding circumstances.
"We think these skills in being able to motivate those who come from difficult areas is the one quality which is going to keep kids out of gang culture."
Free schools are state-funded but semi-independent, similar to academy schools.
Mr Burkard said Oldham has been considered as a possible venue, but they would start the school in the area where the idea was most popular among parents and the community.
Mr Burkard said his proposals were necessary because of dissatisfaction with existing schools.
"I respect teachers, but with the amount of micro-management, they are unable to react to situations in the way they see fit," he said.
A similar project, called Troops To Teachers, has been run by the US Departments of Education and Defense for 18 years.
'Deeply worrying'
Education Secretary Michael Gove has previously described the US system as an ideal example of the coalition government's concept of Big Society.
However, Ian Fenn, head teacher of Burnage Media Arts College in Manchester, said he found the idea of having ex-military personnel as teachers "deeply worrying".
"For the first time in my 30 years of teaching experience, we have a situation where there are graduates with PGCEs, good references and lots of experience who cannot get jobs.
"If there is no place for these qualified teachers, why would we need any unqualified ones?"
Speaking on BBC Radio 4's Today programme, Mary Bousted, general secretary of the Association of Teachers and Lecturers, said she was "amazed" by the proposal.
She said it was not clear what the school would teach, beyond basic numeracy and literacy.
Mr Burkard said pupils would be taught the IGCSE and members of staff would have to have a degree in the subject they were teaching.
However, Ms Bousted said: "It is simply not true that you have just got your degree subject and then you have experience and you don't need to learn how to teach."
She said those teaching children needed to understand how to teach, know about different approaches to teaching, including those used internationally.
"The idea that you can simply take the skills and abilities you have learned in war or on the parade ground or through army manoeuvres and those can be translated, undigested, into teaching without any further training is ridiculous," she said.
If given the go-ahead, the school would open in 2013 with one group of Year Seven pupils. It will be expanded each subsequent year.
Mr Burkard said they needed a minimum of 60 pupils for the school to be viable but said they had been overwhelmed by the response so far.