Manchester riots: Looter Michael Fitzpatrick jailed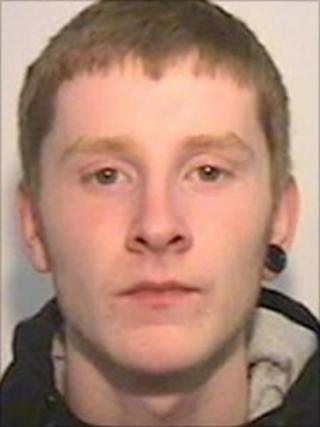 A teenager who was "frog-marched" to a police station after his parents saw photos of him looting has been jailed.
Michael Fitzpatrick, 18, from Worsley, Greater Manchester, confessed to being one of the hundreds who rioted in Manchester city centre last week.
He admitted three counts of burglary as a trespasser and one of handling stolen goods.
He was sentenced to two years and four months in a young offenders' institution at Manchester Crown Court.
The court heard that Fitzpatrick, a company director's son, was "frog marched" to the police after he took part in the looting because he did not think it was "fair that he works but can't afford the things he wants".
He was turned in by his mother after she saw a photo of him looting in a national newspaper.
Prosecutor Michael Morley said Fitzpatrick travelled into Manchester city centre from his Salford home because he heard that "riots were likely to take place".
'Heartbreaking to see'
The court heard that he entered a Footasylum shop in the Arndale Centre and picked up three odd shoes, which he dropped when police arrived.
He then entered several more shops that had been broken into by looters and drank from a stolen bottle of £40 champagne.
Judge Andrew Gilbart QC said it was "heartbreaking to see somebody with so much promise throw himself to the rocks".
He added: "One gets used, as a Crown Court judge, to sad cases and I don't think I have dealt with a sadder case in a long time.
"You come from a family of the utmost decency. They were horrified when they realised what happened, as I think, were you."
Fitzpatrick's barrister Rob Kearney said: "He's 18 and he's a foolish young man and he is going to pay a high price today."
He added that Fitzpatrick's parents, who were present, were "dumbfounded" by his actions.
They made no comment as they left the court.