Stockport 'sausage dog' claim is dismissed in court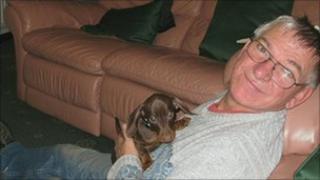 A man who went to court to try and get his pet dog back after his wife gave it away has had his claim dismissed.
Gary and Moira Rowlinson, from Offerton, Stockport, gave mini-dachshund Bailey away in February after it bit their granddaughter.
They changed their minds but new owner Steven Spencer would not give him up.
A judge at Stockport County Court ruled Bailey was a "gift" which could not be taken back.
Mr Rowlinson, 55, had made a claim through the small claims court under return of property.
He argued that he was Bailey's legal owner, but it was his wife who gave the dog away.
The judge ruled that Mr Rowlinson had agreed to give the dog away as he was present when Bailey was handed over.
He ordered him to pay almost £1,500 in costs.
Speaking outside court, Mr Rowlinson said he was "devastated".
"This isn't just something that ends here, we will never forget it," he said.
"Always, whenever we see a dog that is similar or anything it will just keep bringing it back.
"I knew it would cost me money and if there was any hope of getting Bailey back, I would resign myself to spending that money.
"I would never have just rolled over and said 'keep the dog'."
Mr Spencer, from Heaton Chapel, was not in court for the hearing.