Manchester riots: Three jailed at crown court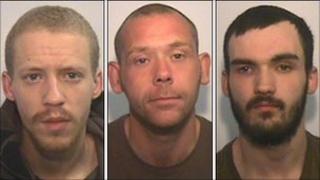 Three men thought to be among the first in England to appear at crown court after last week's riots and looting have been jailed for up to two years.
The men took part in the disorder in Manchester and Salford on 9 August.
David Beswick, 31, Stephen Carter, 26, both from Salford, and Michael Gillespie-Doyle, 18, from Tameside, all pleaded guilty at earlier hearings.
The sentencing judge said their crimes deserved longer sentences than if they had been isolated cases.
Sitting at Manchester Crown Court, Judge Andrew Gilbart QC said: "I have no doubt at all that the principal purpose is that the courts should show that outbursts of criminal behaviour like this will be and must be met with sentences longer than they would be if the offences had been committed in isolation.
'Heartbreaking' effect
"For those reasons I consider that the sentencing guidelines for specific offences are of much less weight in the context of the current case, and can properly be departed from."
Beswick, of Anson Street, Eccles, who the court heard had been given a 37in television to put in his car, was jailed for 18 months for handling stolen goods.
Gillespie-Doyle, of Victoria Street, Openshaw, admitted burglary at Sainsbury's in Deansgate in Manchester city centre and was sentenced to two years in a young offenders Institution.
The court heard he had a "long list" of previous convictions.
Carter, of James Street, Salford, was caught in King Street, Manchester, with a bag of clothes and shoes worth £500. He was sentenced to 16 months in jail for theft by finding.
The maximum sentence of six months in jail that lower courts can hand out was deemed not to be enough by magistrates.
A fourth person to be sentenced on Tuesday was Linda Boyd, 31, who received a 10-month suspended jail sentence. She was also handed an 18-month supervision order.
The court heard Boyd, of Acomb Street, Moss Side, was found by a police officer with a bag full of cigarettes and alcohol, so heavy she could not carry it.
'Mayhem and disorder'
Judge Gilbart said: "To anyone who lives in Manchester or Salford, the effect of what had happened was heartbreaking.
"This (Manchester and Salford taken together) is a hardworking city with a wonderfully diverse society, which is one of its great strengths.
"The common feature of these crimes that night is that all of those involved took advantage of the mayhem and disorder to commit crime."
During the rioting in Manchester and Salford, 155 fires were started, shops were looted with at least 100 premises damaged, at least 20 police officers were injured and seven fire engines were damaged by bricks.
A total of 256 arrests were made by the 900 officers on duty, called in from 10 outside forces to quell the trouble.
Judge Gilbart told the defendants it would be "wholly unreal" to regard their crimes in isolation against the back-drop of what was going on in the streets at the time.
The Chief Crown Prosecutor for North West England, Nazir Afzal said: "All the offenders sentenced at the crown court this afternoon were involved in the widespread criminality that happened that night.
"The sight of people looting and stealing, helping themselves to goods from shops simply because that's what others were doing or because they thought they could get away with it, was truly shocking."