London riots: Enfield fire hits Manchester's music scene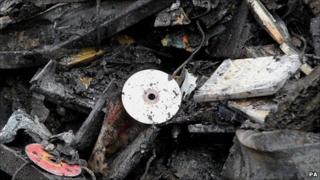 For Neil Claxton, of Manchester's Faith & Hope records, the burning down of Enfield's Sony Distribution Centre in the London riots has changed his label forever.
Having been built on the back of the success of his band, Mint Royale, he has seen nearly all the label's physical back catalogue destroyed in the fire.
He said that despite the digital revolution in music, the loss of a physical arm to the operation was still a major blow.
"When we started years ago, being a real label with real distribution was a real achievement.
"Digital distribution now means anybody can get their music out there but physical is still a service only 'real' labels can provide properly.
"To have overnight been converted though the actions of rioters into a digital only label sort of undoes all that hard work and wipes out a big swathe of history for us."
Destroyed stock
It is not just Faith & Hope that has been affected in Manchester.
Twisted Nerve, one of the city's best loved independents, have reported losing up to 90% of their stock, as have sister labels Bird and Finders Keepers.
The reason so many labels lost so much stock in the fire is the centre was the main headquarters for the UK's biggest distributor of independent music - PIAS.
Mr Claxton said all the stock he had there had been destroyed.
"Like most labels, we only held lines [at the centre] that sold as it costs to store them there, but in a way that is worse as it is basically all the valuable stock that has been destroyed."
He said the fire was also "a big problem for the indie retailers, who were already suffering".
"If a label sells 100 copies of an old album a year, they are not going to be able to justify or afford the minimum remanufacturing run of 500 as insurance will only cover lost stock, not the cost of a new run.
"So loads of labels will just unhappily accept they can no longer sell physical copies of catalogue and leave them as digital only.
"That will mean less products for indie retailers to sell, give less incentive for people to rake around in shops for hidden old gems, and could cause some shops to fail."
Last straw
Piccadilly Records is one of Manchester's most-celebrated independent record shops.
Paul Allen, who works there, said they did not know how it would affect them in the long term but said the problem might not be as bad for the labels as it was for shops.
"Obviously, we are concerned for labels but at least the majority of them are insured and we have already seen some labels decide to be digital only from now on.
"In the long term, it could well be the shops that suffer more.
"We sell a huge chunk of back catalogue that potentially will never be repressed or will be unavailable for months.
"We're hopeful we're strong enough to cope with this but it's impossible to say how it's going to work out and for some smaller indie stores, this could be the last straw."
Huge set-back
Of course, those who have most attachment to what has been lost are the bands themselves and many Manchester acts, both old and new, have lost product in the fire.
Rising stars Dutch Uncles recently released their album Cadenza on the badly-affected London label Memphis Industries.
As their manager Dan Parrott wryly points out, the band's "limited edition white vinyl LP has just become even more limited".
He said that it was "quite a shock how such a relatively far away spectacle could have an impact on us up here".
He added that the "loss of a few records is insignificant to what others suffered" and for him, the real worry for labels was "cash-flow - the same for any small business".
"Labels in general are being squeezed more and more and I have no doubt that there will be casualties.
"Independent record labels take risks on new music, ensuring that boundaries are always pushed and artists are given the space to develop.
"I would like to think the fire continues to turn the spotlight further on independent labels and some good can come of this, but there is no denying it is a huge set-back for an already struggling sector."