Riots: David Cameron visits riot-hit Salford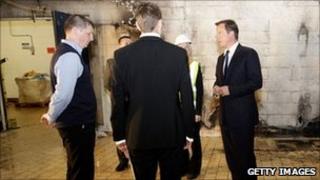 The prime minister has visited residents, police and firefighters in Salford, after the city was targeted by rioters on Tuesday.
David Cameron, with local Labour MP Hazel Blears, visited Salford Fire Station and a Lidl supermarket which was looted and torched.
He was told first hand about the trouble at Salford precinct.
Greater Manchester Police have arrested more than 175 people over the riots in Salford and Manchester city centre.
More than 100 premises were damaged.
Fire engines were pelted with bricks as crews tried to contain blazes started by looters torching cars in Salford.
Wayne Monroe, from Bargain Booze, one of the first shops looted on Salford precinct, told the prime minister: "You could feel it in the air. I knew they were coming.
"They were looking through the window, watching what they were going to take when they got in."
He said the looters ripped up the shutters and went in through side windows.
'Nothing for youth'
"It was adults, kids, crawling in and out of windows," he said.
Mr Monroe said it was local people copying the scenes they had seen in London. "Copycat. Simple as that," he said.
Aaron Kent, a Salford Foundation youth ambassador, told Mr Cameron: "A lot of people had a feeling it was going to take place at Salford Precinct.
"I saw 250 people, not only young people, teenagers, grown men, women with kids, just standing there with angry faces.
He told the prime minister: "There's nothing for the youth. What I do believe is young people taking part - these are the people mostly, because they have not got anything to lose."
'Bravest of brave'
Mr Cameron also met Greater Manchester's chief constable, Peter Fahy, and senior officers in Salford.
He was told local criminals were co-ordinating the rioting and attacks on officers, using the opportunity to "get one over" the police for clamping down on Salford crime gangs.
The prime minister praised local officers, calling them "the bravest of brave", but refused any suggestion of a U-turn on police cuts .
He said he did not think it would be impossible for the force to find savings of 8% while other organisations and families had to make savings.
Mr Cameron said that "swift justice" being handed out by the courts, including those in Manchester, was a "silver lining" to the problems.