'We are Manchester': Shop owners defiant after riots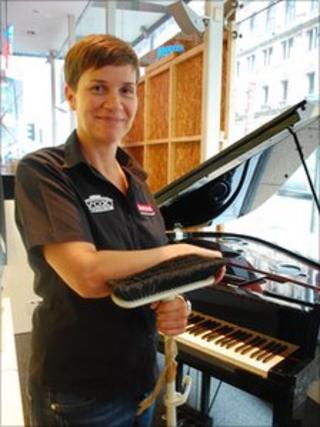 Just two days after gangs of youths rampaged through Manchester smashing windows and looting shops, the city's retailers were in defiant mood.
"We are Manchester, we don't give in that easy," said Trina Rance, operations manager at Dawson's, one of Manchester's largest music stores.
Standing by a wrecked £14,000 grand piano, she described how she learned on Tuesday night that looters had broken into the shop.
What followed was anarchy, with looters helping themselves to musical instruments and smashing equipment.
One hooded youth was filmed walking casually down Portland Street carrying an expensive electric guitar he had stolen, the price tag still fluttering.
"At that point, we were quite helpless because the situation was quite crazy in Manchester so it wasn't safe to come in," said Ms Rance.
"So we had to sit and watch pictures on TV of people carrying our stock up Portland Street."
Since coming in the next morning to what she called "a bombsite", she and her staff managed to get the store not only cleared up, but open for business within hours.
Ms Rance added that they had had "tremendous support" from the public offering to help, and staff from other Dawson's stores coming in on their days off.
"And we've had lots people just coming in to say they were really sorry with what they could see - so that was amazing too," she said.
"We work in music, so we have very good-spirited people, a lot of committed people.
"We're very proud of our store so the natural reaction was, 'right, we need to get this moved and let's get back on with what we do', which is serving people with musical instruments."
She added: "Obviously it's a huge loss to the company - missing stock, loss of business, all the things we have to repair.
"But, you know, we'll get back on with it, we'll recover."
'Completely trashed'
Small independent retailers, as well as high street chains, were also reopening despite being targeted by thugs.
On the corner of Sackville Street, the family-owned Olive delicatessen was ransacked by looters who emptied its shelves of fine wines and spirits.
"They completely trashed the place as well," said assistant manager James Steel.
"They broke all the windows, they threw eggs around the place, they picked up jars of food and smashed them. It was completely mindless."
Mr Steel, 21, said that after being in business for 12 years, staff at Olive were determined not to let the thugs win.
"We came in, everyone pulled together we all cleaned up and within a few hours, we opened our doors," he said.
"So on the next day, we were up and running."
'Pack of animals'
For the staff at the luxury Bang & Olufsen store, the loss or destruction of £100,000 worth of home entertainment equipment has had a bigger impact.
Televisions were ripped from the wall, audio and video equipment stolen and display cases wrecked when looters smashed their way through the metal shutters of the shop on King Street.
"The store was devastated basically," said senior salesman Russ Chew.
He added: "We don't anticipate opening the showroom again for two to three weeks.
"It's not like we can just ring up our suppliers and order products to be here tomorrow because they're handmade in Denmark. So it's going to take time."
Mr Chew was in the back of the store on Tuesday and came out to find 30 or so looters ransacking the shop.
"They were like a pack of animals," he said.
"It was malicious pilfering. A lot of damage was sustained because, if they couldn't remove the product, they just callously threw it on the floor."
However, he insisted that the store would re-open.
He said: "I've been told quite emphatically by the owner that we are going to continue trading."