Manchester and Salford riots: Eight men jailed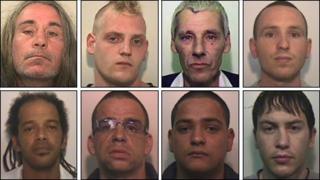 Eight men have been jailed over rioting which broke out in Manchester and Salford on Tuesday night.
The men all appeared in unprecedented late-night sittings at Manchester Magistrates Court on Wednesday.
Among them was call centre worker Ricky Gemmell, 18, of Levenshulme, who was sentenced to four months in youth custody for a public order offence.
Bernard Moore, 46, of Monsall, admitted assaulting a police officer and was jailed for four months.
He shouted abuse at officers trying to deal with the disorder and attempted to gouge out the officer's eye with his finger.
Owen Flanagan, 28, from Levenshulme, admitted two counts of burglary after he stole clothing worth £175 from former Oasis singer Liam Gallagher's Pretty Green fashion boutique, and two electrical items.
'Intolerable lawlessness'
He was jailed for eight months.
Jason Ullett, 38, of Ancoats, was jailed for 10 weeks for a public order offence after struggling with police outside a vandalised Sainsburys store.
Tom Skinkis, 22, of Hulme, was sentenced to four months for a public order offence, and Aaron Grima, 22, of Eccles, was jailed for four months for attacking a police officer.
Paul Obonyano, 42, of Moss Side, was jailed for 14 weeks for obstructing a police officer and a public order offence, and Paul Ruane, 47, of Newton Heath, was jailed for eight weeks for handling stolen goods.
Two men who stole a £4,500 television were told by a judge that their behaviour was "intolerable lawlessness."
District Judge Alan Berg told Dayle Blinkhorn, 23, and John Millbanks, 26, that "no civilised society should be expected to put up with" their behaviour.
He sent their case to Manchester Crown Court as a magistrate can only impose a maximum sentence of six months imprisonment.
Greater Manchester Police said 145 people have been arrested and 97 charged.
Seventy one people appeared at Manchester Magistrates' Court overnight.
Correction 12 February 2015: This report has been amended to make clear that Paul Obonyano was convicted of obstructing a police officer and not of assault, as we were incorrectly informed.