Hundreds join Manchester clean-up after riots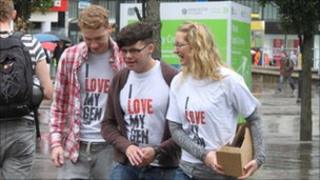 Hundreds of volunteers have been helping to clear up Manchester city centre after thousands of rioters smashed, torched and ransacked shops.
Carrying brushes and shovels people travelled in from across Greater Manchester after learning of the devastation on websites, TV and radio.
Police admitted they were "overwhelmed" by the number of rioters. They made 113 arrests.
The city council said the volunteers represented "real Mancunian spirit".
'Put it right'
Suzanne Reid and her daughter Jess, aged nine, travelled from their home in Denton to sweep glass up from smashed shops at Piccadilly Plaza.
Jess said: "I watched it on TV last night and it made me feel sad and that it wasn't fair because some were just children like me, but there were adults there too.
"I think the children should be punished because they've done all this, but I don't know what. They should be kept in."
Her mother Suzanne said: "It was Jess who wanted us to come down and help. She'd never seen anything like this and she wanted to do her bit to put the damage right.
"They should be closing down the social network sites so we don't get this happening again tonight. It's just so shocking and there's no reason for this like maybe there was with the Poll Tax and the student riots.
"You wonder what the police can actually do. There were officers everywhere, but they just ran rings round them, because they were sending messages about saying: 'Get down here it's a free-for-all'.
Andy Gerling from the Manchester-based group I Love My Generation, which handed out hot drinks to volunteers, said: "We're carrying out random acts of kindness as opposed to random acts of senseless violence and destruction."
The group said it would not remain in the city centre from the early evening because it feared a repeat of the riots and did not want to put its members in danger.
Staff from city centre businesses and Manchester Metropolitan University joined the volunteers, and food outlets gave out free drinks and snacks.
Councillor Pat Karney, the city centre spokesperson for Manchester City Council, said: " The true Mancunian spirit has been shown in Manchester today.
"We have been inundated with offers of help from people and businesses across the city. It has been amazing the way people are pulling together.
"The community has come out to say enough is enough, and that they will not stand by and let thugs try to destroy our city.
"This was pure criminal behaviour from a minority of people who were intent on looting and rioting and these criminals are not fit to be called Mancunians."
Jeremy Myers, a Manchester resident who was involved in a Twitter alert to mobilise volunteers in Piccadilly Gardens from 09:00 BST, said: "We have had hundreds of ordinary Mancunians drop everything to come into the city centre to help out. I didn't force anyone to come along - they chose to because they love their city as I do."