Vandalised Wythenshawe Park centre to re-open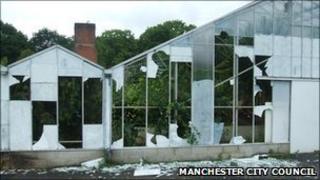 A horticultural centre in a south Manchester park where vandals beheaded birds and smashed windows earlier this year is to re-open.
The vandals caused £10,000 worth of damage to an aviary in the attack in Wythenshawe Park on 29 May.
Six teenagers, aged between 13 and 18, were arrested after the incident and released on bail until September.
The centre has been repaired with help from the local community and will open to the public again on Saturday.
Councillor Mike Amesbury, executive member for culture and leisure at Manchester City Council, will be at the re-opening with the Friends of Wythenshawe Horticultural Centre.
Frogs were speared, fish poisoned and 18 birds beheaded in the attack, before their carcasses were thrown around.
A pond was filled with fertiliser, killing the carp, and trees chopped down.