National BMX Centre opens in Manchester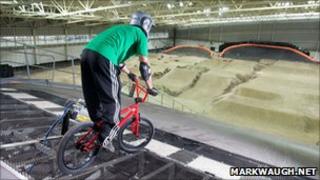 A £24m cycling centre expected to be used by Olympic cyclists has opened to the public in Greater Manchester.
The National BMX Centre is part of the National Cycling Centre, in Stuart Street, which also includes the city's Velodrome.
The new centre will host major BMX events, as well as being used as a training facility for Olympic cyclists.
The centre, which includes a 2,000-seat arena, is also open to the public, with discounts expected for schoolchildren.
The 110,000 sq ft centre contains an indoor and outdoor track, offices for 200 staff, cycle shops and a cafe.
The cost of the building was £19m, with a further £5m spent on improving the surrounding area.
This included a new bridge linking the National Cycling Centre to a new Metrolink stop.
Olympic inspiration
Olympic cyclists are expected to train at the centre in the run-up to the 2012 Olympics and Paralympics.
Manchester residents are expected to be able to use the tracks during designated times, and will receive a discounted rate of £2 for a two-hour session.
Manchester City Council's Mike Amesbury said: "Next year will see a national focus on sport, and I hope the Olympics will inspire Manchester residents to take advantage of the world-class facilities on their doorstep.
"I am sure that in the years to come, there will be British gold medallists who first learned their skills right here at the National BMX Centre."
The centre was funded by Manchester City Council, Sport England and the European Regional Development Fund.