Christie hospital cancer centre opens in Salford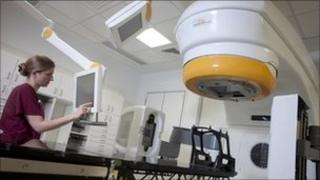 A new £18m radiotherapy centre run by The Christie hospital has opened at Salford Royal Infirmary.
The unit will be able to treat patients with breast, bowel and lung cancers, but will also treat brain conditions.
It has a new treatment system called Novalis Tx which can kill cancer cells without the need for invasive surgery.
The short treatment times of the system mean more patients can be treated in one day.
Tina Karabatsou, consultant neurosurgeon at the Salford Royal NHS Foundation Trust, said: "One of the fantastic advantages of the new Novalis Tx treatment is we will be able to treat brain conditions we were previously unable to treat; such as tumours really deep in the brain where open surgery is too dangerous.
Satellite centre
"Equally important is the non-invasive nature of treatment, which means treatment sessions can be performed as an outpatient day-case and with significantly less side effects."
Rachel Good, Christie radiotherapy manager for the new centre, said: "The Novalis Tx was the perfect choice for the centre because it will help The Christie treat more patients by switching between specialised radiosurgery for tumours in the brain to standard radiotherapy for other cancers of the body.
"In our first year we are looking to treat 720 patients with the Novalis Tx, 120 of which will be priority brain tumour patients where precise, non-invasive treatment is particularly effective."
The new radiotherapy centre is only the second centre in England to use the Novalis Tx - one was installed at Clatterbridge Cancer Centre in February.
It is the second satellite Christie centre to open in Greater Manchester, aimed at bringing treatment closer to people's homes.
The Christie at Oldham opened in March 2010.