Stepping Hill Hospital deaths: Fifth name released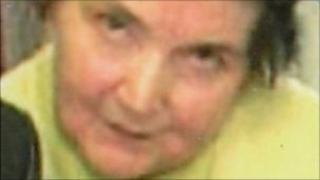 The name of a fifth person to die at Stepping Hill Hospital in Stockport has been released, as police continue their murder investigation.
Vera Pearson, 84, died at the hospital on 14 July, one of five deaths in the past month being investigated.
Police believe the deaths are linked to the contamination of saline. Insulin was injected to 36 containers of the solution.
Detectives are continuing to question a nurse on suspicion of murder.
Ms Pearson was not among 14 patients who police initially believed had been affected by the contaminated saline.
They are also investigating the suspicious deaths of Tracey Arden, 44, Arnold Lancaster, 71, George Keep, 84, and Derek Weaver, 83.
Further arrests
Rebecca Leighton, 27, from Heaviley, was arrested on suspicion of murder on Wednesday and is still being questioned by police.
They have until 2105 BST to decide whether she will be charged.
A 41-year-old man remains critically ill in hospital. Police are also looking at the treatment of eight other patients since 7 July.
Assistant Chief Constable Ian Hopkins has said it was likely Greater Manchester Police would be asked to investigate further deaths. He would not rule out making further arrests.
The Nursing and Midwifery Council has said proceedings are under way to suspend Ms Leighton's nursing registration while she is under investigation.