Stepping Hill Hospital: Two more patients die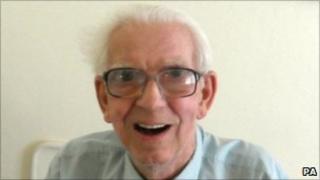 Two more patients have died at a Stockport hospital where a contaminated saline solution was found.
Police said 83-year-old Derek Weaver died on Thursday morning and a woman, 84, died on 14 July.
The deaths come after Tracey Arden, 44, Arnold Lancaster, 71, and George Keep, 84, all died at Stepping Hill Hospital.
Police, who think insulin was injected into saline containers, have been given more time to question nurse Rebecca Leighton on suspicion of murder.
The 27-year-old, of Heaviley in Stockport, was detained on Wednesday at her flat in Buxton Road and officers have now been granted a warrant of further detention to question her until 2105 BST on Friday.
Police said a 41-year-old man remained critically ill in hospital.
The five patients are among a total of 14 whose treatment since 7 July is being examined by police.
Assistant Chief Constable Ian Hopkins, of Greater Manchester Police, said it was "likely" the force would be asked to investigate further deaths and said the inquiry was a "complex investigation that takes time".
"We won't rule out making any more arrests," he said.
He said the inquiry was concentrating on the five deaths, which have all taken place since 7 July, but confirmed that officers could widen their investigation to examine earlier deaths.
"As with the deaths of George Keep, Arnold Lancaster and Tracey Arden, the cause of this man and woman's death is not known and it is important we do not lose sight of this fact," he said.
"In relation to the death of the woman, this was referred to us by the coroner and after a review of the circumstances surrounding this death - notably the low blood sugar level - we have decided to investigate further.
"In relation to the man's death, due to the fact he suffered a hypoglycaemic episode during a timeframe we are looking at, it is only right we conduct further inquiries.
"In the main these are likely to be deaths of people who are elderly and/or ill, and we fully support the coroner's 'belt and braces' approach to ensuring future deaths that require further investigation are appropriately investigated and scrutinised.
"I cannot emphasise enough how complex an investigation this is, requiring detailed forensic and medical analysis, and want to take the opportunity to thank the hospital and staff for their ongoing help and support."
Police have revealed that Mr Weaver suffered a hypoglycaemic episode on the ward on 11 July.
His family said in a statement that he "was a lovely gentleman who will be deeply missed."
Widowed 20 years ago he had lived in Stockport since the 1960s, they said.
His brother Graham and sisters Lynda and Margaret said in a statement: "Derek was a self-taught electronic engineer and ran a successful alarm business in Stockport.
"He loved dining out at French restaurants and had a keen interest in cars and classical music."
The Nursing and Midwifery Council has said proceedings are under way to suspend Ms Leighton's nursing registration while she is under investigation.
Greater Manchester Police were called to the hospital after an experienced nurse reported a higher-than-normal number of patients on a ward with "unexplained" low blood sugar levels.
Officers found insulin had contaminated a batch of 36 saline ampoules in a store room close to ward A1 of the hospital.