Stepping Hill Hospital deaths: Nurse questioned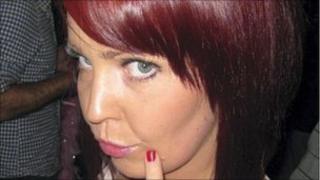 A nurse remains in police custody on suspicion of murder following the deaths of three patients at a hospital in Greater Manchester.
Rebecca Leighton, 27, of Heaviley, was arrested after two men and a woman died at Stepping Hill Hospital.
Police believe insulin was deliberately injected into saline containers.
Officers arrested Ms Leighton at her Buxton Road home on Wednesday morning. They later removed six bags of items and a computer from the flat.
The Nursing and Midwifery Council has said proceedings were under way to suspend her nursing registration while she is under investigation.
Tracey Arden, 44, 71-year-old Arnold Lancaster, and George Keep, 84, died at the hospital in the past month.
A fourth patient, a man in his 40s, remains critically ill.
They are among a total of 14 whose treatment since 7 July is being examined by police.
Greater Manchester Police were called to the hospital after an experienced nurse reported a higher-than-normal number of patients on her ward with "unexplained" low blood sugar levels.
Officers found insulin had been used to contaminate a batch of 36 saline ampoules in a storeroom close to ward A1.
Detectives believe the sabotaged saline containers were used on at least two wards, A1 and A3.
The force said they were working on the assumption the contamination had taken place on site.
Security has been increased on the hospital site and staff have been told to work in pairs when they check or administer drugs.
Insulin is always stored in a fridge in a locked treatment room but saline has also been locked away as a result of the incidents.
Senior NHS bosses at the hospital are also having daily meetings with police.
South Manchester coroner John Pollard has opened and adjourned inquests into Ms Arden, Mr Lancaster and Mr Keep.