Vertical farm in Manchester is a 'multi storey greenhouse'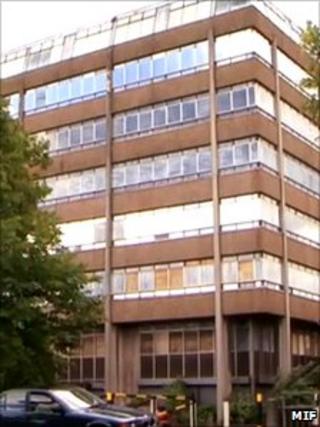 "Imagine a greenhouse stacked on top of itself, so you have three or four layers of greenhouse - it's a multiple storey greenhouse."
Dr Dickson Despommier is a pioneer of vertical farming, an agriculturual technique which has inspired an ambitious new project in Wythenshawe.
His basic idea - to increase the available land for farming - is now being put into practice inside a derelict office block on the edge of Wythenshawe Civic Centre.
Over the next two years, Alpha House will be transformed into Alpha Farm, growing produce for the 2013 Manchester International Festival (MIF) on its eight floors.
As well as growing leafy plants and root vegetables, it is also planned to incorporate fish tanks, bee hives and a hen hangar on the roof.
Simon Mellor, general director of MIF, said what made Alpha Farm unique is that it is the first attempt to turn an existing building into a food supplier for the 2013 event.
"That is our dream," he said.
"Can we get to a sufficiently productive level that most things that people are eating, in terms of the vegetables, have been grown on this farm?"
The main challenge, as a former worker in the derelict block put it, will be the "ramshackle, decrepit old building" they are working with.
"It is poorly insulated, single-glazed and it will be hard to maintain the temperature.
"If they can do it in there, they can do it anywhere really."
Local involvement
The concept of vertical farming grew from the prediction of many scientists that, that as the pressure increases on already limited farm land, food shortages could occur in the coming decades.
By employing new technologies, it is possible to cultivate crops inside a building rather than outside in the soil.
Consequently, vertical farms can support agriculture in environments where farming has previously been impossible, such as cities.
There are prototypes being planned and constructed in Japan, Korea and Holland.
Whilst the project has global significance, MIF have been keen to stress the role the local community can play in the project.
Local people, schools and community groups will have the opportunity to be involved in a variety of ways from learning how to grow crops to thinking how produce will be distributed into local homes and shops.
Mr Mellor said the ambition is that it becomes "a project that the local community find so indispensable that they want to take it on as their own."
If that can be achieved, Wythenshawe will have taken a big step towards the forefront of the vertical farm movement.