Roger Johnson is the new face of BBC North West Tonight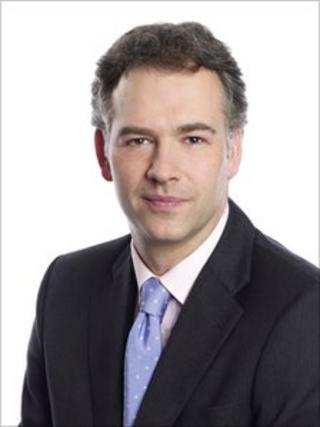 Roger Johnson has been appointed the new face of the BBC's regional TV news programme, North West Tonight.
The award-winning sports presenter takes up the post in October to work alongside Ranvir Singh.
He replaces Gordon Burns who announced in April that he is to leave North West Tonight after nearly 15 years.
"It is both an honour and a daunting prospect to succeed a broadcaster of Gordon's stature," he said.
Mr Johnson's appointment marks a return to the region where he once worked as BBC GMR's Manchester United reporter.
Adding: "This is one of the best jobs in regional television and I'm looking forward to returning north and working on one of England's most varied news agendas."
'Momentous time'
Roger has been with BBC South Today since 1997 - where he is also a regular presenter on the main news output.
He also appears as a news presenter for the BBC News Channel.
Roger has also worked for BBC Sport - as a reporter for Final Score and commentator on Match of Day. He was based in Johannesburg with BBC Sport at the 2010 World Cup.
Born in Stoke-on-Trent, Roger began his BBC career at Radio Solent in 1994 before joining the sports team at BBC Radio Manchester (then BBC GMR) between 1995-1997.
He has won, or been nominated for, several national and regional RTS Awards - including winning the best Regional Sports Presenter/Commentator category at the 2002 National Sports Awards.
Head of Region, Aziz Rashid said he was "delighted" to welcome Roger to the team.
"He joins us at a momentous time as the programme moves from its current base on Oxford Road, Manchester, to MediaCityUK in Salford.
"He is a true professional, with a warm, accessible style, and I'm sure our viewers will give him a fantastic North West welcome."