Chadderton closure marks end of era for aviation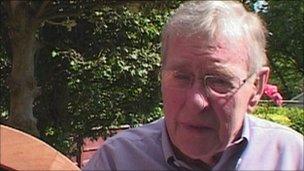 Wartime in Greater Manchester and more than 11,000 people are at work on one of the most iconic planes of WWII, the Lancaster.
It was the most successful British heavy bomber of the Second World War was immortalised in the operation and subsequent film dramatisation of the Dam Buster raids.
The Lancaster was built at the Avro plant in Chadderton which went on to be owned by BAE Systems and is now set to close within the next 12 months.
The closure marks the end of Greater Manchester's century-old connection with the aviation industry.
More than 7,000 Lancasters were built and almost half were produced at the Chadderton plant.
The site, which opened in 1939, also produced Bristol Blenheims and the twin-engined Manchester bomber.
It was modified, fitted with four engines and subsequently became the Lancaster, flying for the first time in 1941.
The Avro design team in Chadderton continued to produce many more aircraft, including the Tudor, the Avro Shackleton and the Vulcan.
Jack Corry, who worked at the plant for 34 years, said it was a great pity the factory was now being closed down.
"Working there was good, it was a great place to work and what we did, we delivered the best aircraft in the world, the Vulcan," he said.
"It was the first four-engine plane of that design, the first aircraft I'd worked on and I just enjoyed it."
He described the closure as "an utter waste".
"It's very sad. The thing that hits me is we've lost such a chance of carrying on into the future.
"We had the greatest design team, we had the greatest manufacturers. You'll never get a team like that again. It's just gone.
"Where will you build an aircraft in this country to equal that? You'd have to go abroad, it's just the way that things go."
Harry Holmes, from the Avro Heritage Centre, said the closure was a sign of the times.
"I think it will be a big loss, mainly because of the people over the years who have worked there and there were thousands of course. It has come to the end of its days now.
"Things have changed, manufacturing has changed and aircraft production across Europe has shrunk. It's a sign of the times I'm afraid."
Workers at the Chadderton went on to manufacture components for the BAE 146 and RJ series of jet airliners and made a significant contribution to the Airbus programme.
But the future of the plant was called into question after the government axed the Nimrod aircraft programme last year and the closure of Chadderton's sister plant at Woodford.
Related Internet Links
The BBC is not responsible for the content of external sites.