'Hope and despair' 30 years after the Moss Side riots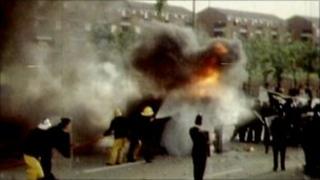 The rioting that erupted onto the streets of Moss Side 30 years ago was a baptism of fire for Father Phil Sumner.
"I turned the corner onto Quinney Crescent and there were hundreds of young black people on one side and the police with their riot shields on the other," he said.
"The next thing was, a brick bounced off the bonnet and hit the windscreen."
In July 1981, Father Sumner was a young curate who had returned to the area with little understanding of its people and their problems.
Thirty years on, the Catholic priest has since earned respect from all sides as a peacemaker who helped to steady Moss Side through a quarter of a century of turmoil.
"I wanted to find out from the young people why they were so angry," he said.
"I remember standing there talking when the police launched a baton charge into the crowd.
"We headed down what is now Raby Street, past Our Lady's Church, and at the gate was a burning barricade."
'Beat yourself up'
At the time, unemployment among young, black men in Moss Side had reached 80% and few stood a chance of finding a job.
But it was the use of "stop and search" by police that left many people in Moss Side "waiting for something to happen".
"The whole black community - not just the young people - felt such anger towards the police," Father Sumner said.
"So there was a real breakdown in that relationship."
A memorable piece of graffiti at the time - "Help the police, beat yourself up" - summed up the mood of many.
Then, on 8 July 1981, simmering tensions boiled over as hundreds of people besieged Moss Side police station, sparking three nights of rioting and street battles with police.
Tony Atta, a former youth worker in Moss Side, said there had always been a "them and us situation".
As the disturbances began, he recalled hearing noises and going outside to see hundreds of people on the streets.
"It was then I realised that this was not just one or two - it was a mass movement."
While the notorious "sus laws" may have have sparked the rioting, Father Sumner said there were other factors too.
"People like me, we weren't understanding the black issues, we didn't understand how to nurture identity in young people," he said.
"So they were being let down by schools, they were being criminalised by the police, and the hopelessness and the discrimination in the jobs market.
"All of this was creating a cocktail that was waiting to explode."
Professor Gus John is former chair of the Moss Side Defence Committee, which was set up following the riots.
He remembers Moss Side in the summer of '81 as a "powder keg waiting to go off".
Haven of hope
But he believes the lessons of Moss Side 30 years ago have not been learned.
"The employment situation is still dire and, generally speaking, there is still a sense of despair and hopelessness among young people," he said.
"One of the reasons why we were able to interact [in the 1980s] is that we still had a core of youth and community workers who knew the area, and knew the young people.
"They trusted some of us and therefore they knew there was a buffer between them and the long arm of the state.
"And I'm not quite sure that is the case any more."
But Gabrielle Cox doesn't agree.
A former Moss Side councillor, she has been closely involved in the Hideaway Youth Project which has been providing support and advice for young people in Moss Side for 45 years.
It is currently working with the Millennium Powerhouse and Moss Side leisure centre to run apprenticeships in sports management.
Mrs Cox said that, while Moss Side has suffered from an image problem, Hideaway was building "hope for the future".
"Young people felt that if you put Moss Side as your address, you wouldn't get a job," she said.
"People remember the headlines, but what they don't realise is that there's an entire community working together who have made so many of those issues a thing of the past."
"Our aim is straightforward: we help these young people to believe in themselves and to make the most of their lives by looking ahead."
Drug world
Father Sumner - who moved to Oldham following the town's 2001 riots - still visits Moss Side every Friday to meet up with friends and visit the gym.
He believes the resilience of Moss Side's "vibrant community" means the area is unlikely to see the explosion of anger it witnessed 30 years ago.
"You've got all sorts of alternative economies now in Moss Side," he said.
"Because of the existence of the drug world and these economies, you probably have less reasons for people to riot.
"If you've got money coming into an area - even if it's not legal - you've got less of that antipathy towards society as a whole.
"It's when you've got nothing that you get angry with everybody."