Belly dancing rocking Manchester's fitness scene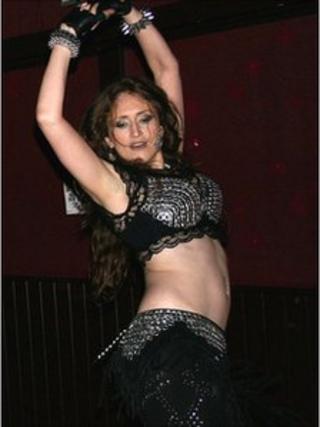 Aerobic workout classes have, in recent years, usually come with a dance music soundtrack pumping the participants along.
While there is little doubt that the repetitive beats do go well with the relentless exercise, the tunes are not to everyone's taste.
That fact has led a pair of dancers from Manchester to come up with what they hope will be a new fitness craze, RockIt Belly Dance.
Combining moves from street dance, burlesque and belly dancing with a soundtrack of rock, it is certainly a very different option for those wanting to keep fit.
RockIt's creators are Saskia Ravenscroft and Emma Bates, a duo who are as passionate about their dancing as they are about their music.
Ms Ravenscroft said the class, which began in 2010, had proved very popular in her home city and that they had taught hundreds of women in Manchester.
"It's going incredibly well - we've had such a great response from people," she said.
"We find that whenever we do it, we get a good reaction and our students just keep coming back to us."
That statement is borne out by dancers at their class at the Dancehouse in Manchester.
Gemma Fairclough from Bolton is a regular attendee, who started the class after seeing "a poster in the pub".
"I really fancied trying dancing - it wasn't something I'd done before - and I love rock music, so having the two together is really cool," she said.
"It was a really friendly atmosphere, it was a good work-out and it's really fun."
Ms Bates said that while the fitness class was the main thrust of their idea, the pair had since branched out, doing dance routines with a troupe at music concerts and festivals.