Gorton firefighters rescue fox cub from manhole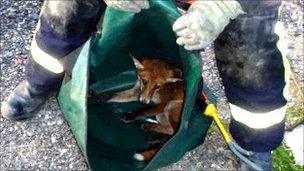 Firefighters in Manchester were called to rescue a fox cub which had become trapped in a manhole.
Crews were returning to their station in Gorton when they saw children trying to rescue the fox on wasteland.
Firefighters said although that sort of task was usually carried out by the RSPCA, they decided to act to avoid the children putting themselves at risk.
Firefighter Mark Humphries climbed down the manhole using a ladder and put the cub into a bag before setting it free.
After the rescue on Thursday morning, the cub was then freed into the wild in the presence of an RSPCA officer.
"Although it is usually the job of the RSPCA, the fire crew decided to assist due to the possible danger to the children and further distress to the animal," said a fire service spokesman.
Related Internet Links
The BBC is not responsible for the content of external sites.