Salford Chat Moss peat extraction refused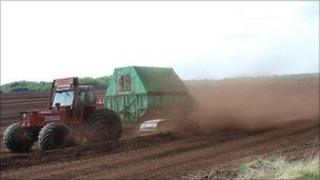 A company's plan to continue extracting peat from 10,000-year-old moss land in Salford has been turned down.
William Sinclair Horticulture Ltd had applied to Salford City Council for permission to extract peat at Chat Moss for the next 15 years.
Its licence expired last December, but in April it resumed work at the site in the hope permission would be granted.
However, Salford planning councillor, Derek Antrobus, confirmed the application had been refused.
The 90-hectare (220 acres) site is the largest piece of peat bog land in Greater Manchester.
'Matter of principle'
There were nearly 600 objections to the work, including from Natural England, the Environment Agency, the Greater Manchester Ecology Unit, the Ramblers Association, the RSPB, the Campaign to Protect Rural England, Friends of the Earth and the Lancashire Wildlife Trust.
Conservationists argued the impact on the biodiversity and "release of huge amounts of CO2 into the atmosphere" was too great.
Mr Antrobus said: "There were two main grounds (for refusing the application), one was a matter of principle that by extracting peat from the Moss that would contribute to the amount of carbon in the atmosphere and as such contravene the very clear advice from government that we should not allow any development which contributes to global warming.
"The second ground was concern about the quality of information that had been provided, it wasn't good enough for us to be sure that they would restore the site to a good quality."
He added: "I think we have come to the right decision, it is something that we have to preserve for future generations."