Not Part Of is Manchester International Festival fringe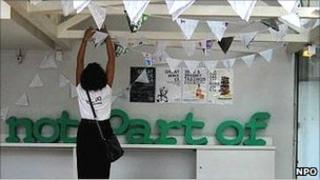 The third Manchester International Festival (MIF) has brought a host of artists, musicians and actors together in the city for three weeks of original works and new commissions.
Yet many of them are not taking part in MIF, but in Not Part Of (NPO), the unofficial programme of events which runs alongside the international showcase.
NPO director Gareth McCann says it is the "fringe", a showcase named to show itself as a counterfoil to the official goings-on.
As the name suggests, the showcase is not put together by MIF's organisers, but by Mr McCann and his team, with no links existing between the two.
For Mr McCann, the point is to show the full picture of the arts in Manchester and he says that without NPO the international festival would only tell half a story.
He says that it is needed "to balance out MIF, which creates work that it hands out to audiences".
"Not Part Of provides training, opportunities and a platform for artists at a grassroots level to reach out to audiences," he says.
"This means that Manchester has a completely balanced festival output when MIF and Not Part Of are on."
Not that he is overly concerned with the official programme of events.
As he says, "they do what they do and we do what we do", a statement borne out of pragmatism, rather than confrontation.
"We're far too busy working on our festival to check what they're doing."
'Open, inclusive, original'
What NPO do is offer a variety that MIF, for all its events, cannot compete with, he says.
Their 2011 showcase, held across 48 venues, includes 150 events, more than MIF.
They include a radio show taking to the stage, an 'art crawl' around Manchester galleries and exhibition spaces, a disturbing exploration of the cost of war and a play which sees the story of Princess Diana transposed on to a London housing estate.
Mr McCann says NPO is about celebrating a diversity of spirit and creativity, a feeling he describes as Mancunian.
"By calling it Mancunian, we mean open, inclusive, original and groundbreaking."
At MIF, the talk is that festival opener Bjork and Damon Albarn's opera about English scientist-magician John Dee will provide major highlights.
For Mr McCann, the highlight of his own event will come in a simpler form.
"We don't play favourites at Not Part Of, but I'm particularly looking forward to seeing our brochures in the hands of passing strangers on the streets of Manchester," he says.
"That always gives me a buzz."
Not Part Of takes place at various venues across Manchester from Thursday 30 June to Saturday 16 July 2011