Origins of Bolton rounders game sought by university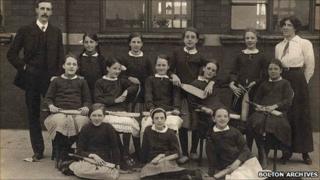 A Bolton historian is asking for help to find out more about the town's unique version of the game of rounders.
University of Bolton researcher Dr Peter Swain came across a picture of pioneers of the game while researching the 20th Century pastimes of the town.
Taken in 1914, it shows girls from Tonge Fold Council School who later formed the town's first league in 1918.
Dr Swain said it would be great to "put names to faces" because of their importance to the game.
As opposed to the standard national game, Bolton rounders uses a smaller, wider bat and a soft ball, which can be thrown at players between bases.
It also uses a different scoring system and has larger teams, with 11 rather than nine players to each side.
Dr Swain said that it was adapted from the national game around 1911 and "proved immensely popular with girls and women in the town".
It was initially played in schools by both sexes, but on leaving school, Dr Swain said boys considered it a game for girls and did not play it in adulthood.
However, he said that the girls took up the game with relish, taking the game out of the schoolyards when they left school at 14 and forming "adult leagues through the Sunday Schools which has lasted until today".
He said that the photograph shows some of the pioneers who made that leap into the leagues and popularised it as an adult sport in the town.
"I know that this picture features at least eight girls who, as young women, went on to play in the first adult rounders league in Bolton that was formed in 1918," he said.
"I think the girl on the back row with the bat and her arm round the next girl was called Cissie Leather, but there is some debate about it.
"It would be great if we could put names to their faces so I can include the photograph in my final work."
Dr Peter Swain can be contacted by email him at p.swain@bolton.ac.uk.