City set for third Manchester International Festival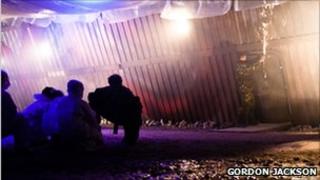 The third Manchester International Festival (MIF), which champions new and original work, is due to begin later.
The biennial festival, featuring shows by comedian Johnny Vegas and performance artist Marina Abramovic, opens with an evening performance by musician Bjork of her new album, Biophilia.
Two shows - Bjork's and The Crash Of The Elysium, a Doctor Who show at Salford's MediaCityUK, both previewed ahead of the official opening.
MIF 2011 runs until Friday 15 July.
This year's event sees some famous names return, with musician Damon Albarn contributing for the third festival running.
Mr Vegas, Ms Abramovic and world musicians Amadou and Mariam, from Mali, West Africa, are also making their MIF returns.
MIF 2011 also has several festival debuts, including comedian Victoria Wood, who directs a show about a children's choir which recorded a song with Manchester-based Halle orchestra, which performs around the world.
Ex-Beautiful South singer Paul Heaton will also be premiering one of the longest pop songs ever, an eight-chapter piece which considers the seven deadly sins.
Performances will take place across Manchester and Salford.
'Come up trumps'
MIF chairman Tom Bloxham said he thought this year's event would be "the best" so far.
"I've been challenging Alex [Poots, festival director] a bit like a musician; the first album they have been writing all of their life, the second one they make it big and it's their third one that really matters," he said.
"I think he's come up trumps with this one actually," he said.
He added: "There's a lot more buzz about it than the previous ones. Despite the recession, the ticket sales are much faster than they were in the previous two."
MIF began in 2007 and featured such diverse contributors as chef Heston Blumenthal and artist Steve McQueen.
It returned in 2009 with an event which hosted original pieces by singer Rufus Wainwright, architect Zaha Hadid and ballet dancer Carlos Acosta.