Thousands march in Manchester pensions strike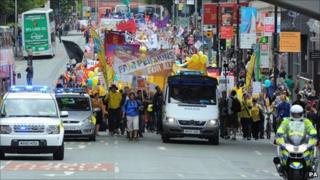 Thousands of public sector workers have marched through Manchester as part of nationwide strike action.
More than 550 schools were closed in Greater Manchester by strike action over proposed pension reforms.
Members of the National Union of Teachers (NUT) were joined by lecturers and civil servants on a march and rally in the city centre.
Greater Manchester Police (GMP) had predicted a turnout of 500, but said that the figure was nearer 2,000.
The march took 20 minutes to pass Manchester Town Hall.
Angie Crossland, 44, a teacher from Oldham, said: "I think the support today has been tremendous. I was a bit nervous about coming here because I have never been on strike before.
"Teachers don't want to pay any more, we don't want to work longer. Give us what we deserve."
Firefighter support
The protesters were joined by 200 firefighters from the Fire Brigades Union (FBU), who are not striking but said they wanted to show their solidarity.
Paul Fogerty, of Greater Manchester FBU, said: "Our pensions are possibly facing a 3% reduction so this affects us too.
"We are carrying out a process of consulting with our members about possibly taking this kind of action."
Members of the Prison Officers' Association (POA) at Manchester Prison (formerly Strangeways) staged lunch-hour protests outside the jail in support of the action.
A POA spokesman said the 600-strong staff were legally prevented from striking, but they "wanted to show their solidarity for fellow public sector workers and they are also worried for their own pensions".
The Ministry of Justice said the strike meant Manchester Crown Court, Crown Square, and Bolton Crown Court had not been able to hear non-urgent cases.
"The affected courts will only have been able to deal with urgent custody cases or family issues," said a spokesman.
Speaking at the rally at Castlefield Arena, University and College Union (UCU) representative Barry Lovejoy told crowds: "The average pension of a female FE lecturer is £6,000 - hardly gold-plated Mr Cameron."
He added: "The attack on pensions is one part of an attack on the welfare state.
'Never heal'
"There is a demonisation of public sector workers and an attempt to divide public and private sectors and it will not succeed."
Demonstrator and retired lecturer Malcolm Pittock, 81, from Bolton, said: "I think there needs to be an umbrella group of the green movement and peace movement and opponents of government policy over the amount of our money being spent on war."
Youth group, Kids Against the Cuts, unfurled a giant bandage in the crowd that was daubed in mock blood with: "Education Cuts Never Heal".
Prime Minister David Cameron has said that the proposed pension changes would secure affordable public sector pensions for decades to come.
The government said reforms were necessary because people are living longer and the cost of funding public sector pensions was "unsustainable".
Out of almost 1,200 schools within the region, nearly 60% were affected by the action.
The largest number of closures was in Salford, where 84 schools were shut or partially shut. Elsewhere:
In Bolton and Bury more than 50% of schools closed
In Manchester, 65 out of 152 schools were affected
In Oldham, 80 of the town's 105 schools closed
In Rochdale, 68 out of 88 schools closed
In Stockport, 65 out of 89 schools were affected
In Tameside, 67 out of 90 schools closed
In Trafford, 65 out of 95 schools were affected
In Wigan, 22 out of 132 schools closed
In Cheshire East, 44 out of 145 schools closed
Nigel Woodcock, UCU representative at Manchester College's Shena Simon campus, said: "It's a difficult situation at this college because we've got a very anti-union management and people are scared.
"They know they need to stand up for their rights and strike but they're worried about getting sacked."
Members of the Public and Commercial Services Union (PCS), which includes customs and immigration staff, also took part in the strike.
The PCS said it had 1,800 people in HM Revenue and Customs in Greater Manchester.
Manchester Airport, which was expecting 34,000 people to fly in throughout the day said that passengers did experience some queues at immigration and customs, but they were "nothing out of the ordinary".
A spokesman said: "We got through our predicted pinch point at lunchtime fairly smoothly and although there were queues I don't think passengers were waiting longer than at other busy periods."
The airport had deployed 30 extra staff to manage potential queues and hand out water if needed, as well as providing additional seating.
The UK Border Agency had drafted in staff from other areas of its business to cover the duties of striking staff.
Bev Dickson, a mother-of-two from Sale who runs Warrington-based financial recruitment consultancy Dickson O'Brien Associates, is one of the thousands of parents who have had to take time off work or make alternative childcare arrangements.
"While I sympathise with the teachers wholeheartedly, working in recruitment I've seen a lot of examples of people in the private sector having their pay and benefits hit - and unfortunately it's a sign of the time.
"I've seen in my clients an acceptance of the economic situation and an understanding that people have to knuckle down and take the hit," she said.