Harold Shipman 'inspired' painting by Stone Roses's John Squire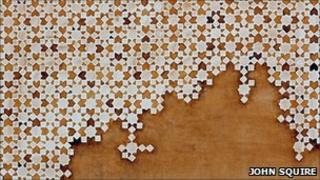 Former Stone Roses guitarist John Squire has said he painted a picture inspired by Harold Shipman to look at "the darker side of human nature".
Squire, who has worked as an artist since quitting music, is showing the piece named after the killer in his London exhibition, Celebrity.
It is a collection of abstract pictures and includes pieces inspired by David Beckham and Tracey Emin.
The artist said he had drawn on figures from "the history of the phenomena".
Mancunian Squire said the artworks, including one of Shipman who had a GP practice in Hyde, Greater Manchester, were created as "a brief respite from the endless bombardment of celebrity images".
He said that he had chosen his initial inspirations for the work based not on their popularity, but on their place in "the history of the phenomena" of celebrity.
That decision has led to him painting art inspired by such disparate figures as Josef Fritzl, who held his daughter captive for 24 years, film director Woody Allen and footballer David Beckham.
Squire said he had "tried to select a broad range of personalities and not just reflect my tastes".
"Starting with Harry Houdini, one of the first to be internationally known, through JFK and Arnold Schwarzenegger, I considered the history of the phenomena [of celebrity].
"I also countered the inevitable male and American bias inherent in such a list with the selection of some British female characters, such as Alison Steadman, Tracey Emin, Keira Knightley and Vivienne Westwood."
He said through them he "wanted to look at the darker side of human nature, our primal desire for blood as well as our need to worship, and the way these traits are exploited by the media, turning people like Shipman into household names".
"The same machinery is used to repeat the images and re-tell the stories, whether it be Beckham or Fritzl under the microscope," Squire said.
He said he had decided to use the patterns, which are based around the eight-pointed star of traditional Islamic art, to show how that religion tries to avoid creating idols of any particular individual.
The artworks are showing at the Idea Generation Gallery until Sunday 3 July 2011.