Wartime Wanderers film to tell true story of Bolton heroes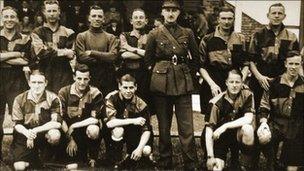 When World War II broke out, Bolton Wanderers FC was not unusual in having some of its players go off to fight.
But in team captain Harry Goslin, they had an inspirational leader both on and off the pitch.
In 1939, in front of a 23,000 strong crowd at Burnden Park, the 28-year-old skipper gave a rousing speech before leading his entire team to sign up at the local Territorial Army drill hall.
"We are facing a national emergency," he told them.
"But this danger can be met, if everybody keeps a cool head, and knows what to do. This is something you can't leave to the other fellow, everybody has a share to do."
"It's an amazing story," said David Evans, the producer of Wartime Wanderers, a new film being made this autumn.
"They all went down to the recruiting office - not just Harry and a couple of mates - but the whole team went down and signed up."
For the next six years, the players faced some of the heaviest fighting of the war in France, North Africa and Italy while also establishing themselves as a formidable regimental football team.
"They were part of the rearguard action at Dunkirk," said Mr Evans.
"They were among the last people off the beaches - Harry Goslin's unit took out four tanks on the last day - and at least one of them had to swim to a ship to get out.
"They fought through the North African campaign, they were at El Alamein and, in fact, they were pulled off the front line to play King Farouk's side in Cairo.
"They fought all the way up through Italy - they were at [the battle of] Monte Cassino. And incredibly, of the whole team, only one of them was killed.
"It's an extraordinary story and I'm amazed that it's not part of British heritage of wartime stories."
Led by Harry Goslin, Jackie Roberts, Don Howe, Ray Westwood, Walter Sidebottom, Ernie Forrest, Jack Hurst, Stan Hanson, Billy Ithell, Albert Geldard, Danny Winter, George Caterall, Jimmy Thompson and Tommy Sinclair all joined the 53rd (Bolton) Field Regiment.
Two others - Syd Jones and Charlie Hanks - had also enlisted but were too young.
Goslin - who was promoted to Lieutenant - was killed in action in 1943 when he was hit in the back with shrapnel during a battle in Italy - the only one of the Bolton players not to return.
The film does, however, bring together another Bolton hero and Bevan boy Nat Lofthouse with his boyhood heroes when they returned home after the war to play football.
The Wartime Wanderers film is inspired by a book of the same name by Tim Purcell and Mike Gething, first published in 1996.
Casting is yet to be confirmed but discussions are taking place with a number of actors including Bradley Walsh, Jonathan Pryce, Matthew McNulty and Sean McGuire.
Filming is scheduled to get under way in September with a number of locations identified in the North West.
Bury FC's ground Gigg Lane will double up for Burnden Park, Astley Green colliery will be used for a scene featuring Nat Lofthouse and the East Lancashire Railway will also be used.
War scenes will be filmed on Salisbury Plain, the Thames Estuary and on location in Italy.
With most of the funding in place, the filmmakers are also planning to invite individuals to get on board with investments of as little as £100.
The producers are also expected to announce that some of the proceeds of the film will go to the Help for Heroes and other charities.
Related Internet Links
The BBC is not responsible for the content of external sites.