Manchester police officers ordered to ditch red tape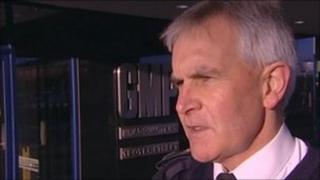 Greater Manchester's chief constable has written to his officers ordering them to ditch red tape and use their common sense instead.
Peter Fahy said a culture had developed in which police officers followed policy for its own sake, rather than using their own judgement.
He said he wanted his officers to be driven by doing "the right thing".
If that meant ignoring established policies and procedures then he would back them, he said.
Greater Manchester Police has previously said it needs to find savings of £134m in four years.
'Go outside policy'
In the letter, Mr Fahy said policies and procedures had been developed with good intentions but "sometimes in following the letter of a procedure we miss the spirit and intention behind it... pursuing a policy may mean overriding the wishes of the victim.
"In an age of reduced funding and job losses we cannot justify spending time on activities that do not benefit the public."
Speaking to BBC Radio 4's The World Tonight, Mr Fahy said officers could "go outside policy".
"We have really come to a situation certainly in Greater Manchester Police where officers felt the most important thing was always to comply with the process of the policy because you then couldn't be criticised.
"But the fact is, particularly in an era when resources are much tighter, that isn't good enough. You have to look at the whole situation."
When asked if he was saying there were times when it was "ok to tear up the rule book", he responded: "Absolutely."
"In lots of situations following the rule book, following the policy, is absolutely the right thing to do, particularly in high risk situations involving perhaps child abuse or domestic violence.
"But in a lot of other situations the rule book may not help, particularly if it means by following a procedure or policy you take up more time and incur far more expense than is justified at a time when time and resources are tight."
He added: "Officers are obviously concerned about spending cuts, they are concerned about cuts to pay and pensions but almost their number one gripe is the fact that they are not able to use common sense and professional discretion.
"They can see what the public wants and what a victim wants but policy sometimes prevents them from delivering it."
He said his initiative would allow officers to follow their vocation of wanting to help people.
'Home Office backing'
Speaking to BBC North West Tonight, he cited the example of a fight in a school playground, which under current procedures could be recorded as a violent crime, with video interviews and files passed to social services.
"You have to ask - is that what the victim wanted?" he said.
"Would it have been better for the officer to talk to those involved instead and visit the school to talk to the head teacher?"
Mr Fahy admitted some officers may be concerned about the plans but said "if officers have acted with integrity and clearly tried to do the right thing then the force will support them".
He said he had received the backing of the Home Secretary Theresa May.