Manchester pair to walk to Glastonbury for charity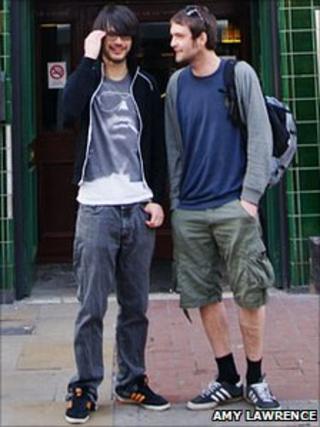 A pair of music fans from Manchester are using a trip to Glastonbury Festival to raise money for charity by walking there.
Jim Hunt and Jamie Crowley will walk the 181 miles in support of Water Aid.
The trip has been inspired by Mr Hunt's "nightmare" 17 hour coach journey to the 2010 festival, which saw those on board run out of water.
The pair intend to make the journey in seven days, with Mr Hunt playing a charity gig each night along the way.
Mr Hunt and Mr Crowley will be joined on part of their journey by Salford music act Girl Peculiar and have extended an invitation to anyone who wants to join them in the fundraising effort.
"If anyone wants to join us along the way, they can find out our location online and then just join us," Mr Crowley said.
"Even if they just want to do a couple of miles that day, it'll be really good."
'Quicker to walk'
The idea for the walk came to the pair while discussing the festival and Mr Hunt's much-delayed journey to the 2010 event.
"The traffic was bad and what should have been a six hour journey turned into 17 hours," he said.
"It was boiling hot and we ran out of water after 13 hours.
"Jamie rang me up about 15 hours into it and couldn't believe I was still on the coach.
"I said it would have been quicker to walk - and the idea came from there."
The pair will warm up for the long trek with shows around Manchester before setting off for their first out-of-town destination, Stoke-on-Trent, on Wednesday 15 June.
They will then call into Wolverhampton, Worcester, Gloucester and Bristol before arriving at the Glastonbury site on 22 June.