Sarah Storey to ride across Britain to aid Paralympians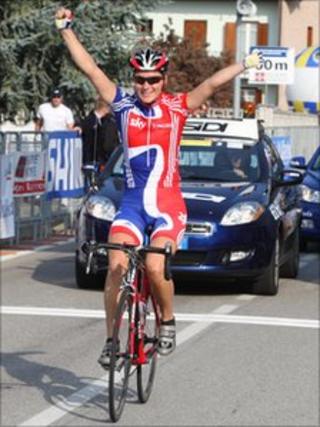 Manchester's champion Paralympic cyclist Sarah Storey is to bike from John O'Groats to Land's End to help raise funds for Paralympic athletes.
Mrs Storey, who has gold medals in both swimming and cycling, said the ride would help GB athletes at the 2012 Paralympics be "really successful".
Fellow Paralympians, including her husband, Barney Storey, will be riding with her on the 950 mile route.
The ride, which will take nine days to complete, starts on Saturday.
She said that the ride was necessary to raise money which will "provide myself and my teammates with the best preparation possible for next year's games and hopefully make the home games really successful".
The cycling great said that rather than affecting her own preparations for the London Paralympics, which begin on 29 August 2012, the cycle would "work out perfectly" for her.
"I did it last year and it is an absolutely perfect way to get a load of miles in with someone giving you the directions, rather than you having to think up them up yourself," she said.
"Once we come off the back of it, we can continue with training with fewer miles and a little bit more speed.
"No-one will be able to keep up with me on the stamina front once I've finished this."
Mrs Storey will be joined by Paralympic cyclists Barney Storey, Darren Kenny, Jody Cundy and David Stone, as well as London 2012 hopefuls Shaun McKeown, Jon-Allan Butterworth, Tel Byrne and Helen Scott, on the Deloitte Ride Across Britain ride.
She said that while they would make good company, there were two more people that she could not make the journey without.
"We've got my mum and dad driving the car," she said.
"Mum will be feeding me jam butties out of the window and my dad will be topping me up with the drinks bottles along the way."