Mersey Ports and Manchester Ship Canal growth plans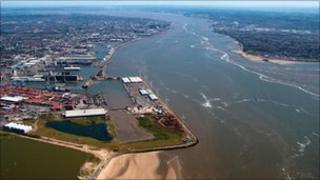 Plans to increase the handling capacity of Mersey Ports and the Manchester Ship Canal by 70% over the next 20 years have been unveiled by owner Peel Ports.
A 13-week public consultation period has begun to consider proposals for new inland ports along the 44-mile route.
The masterplan also includes utilising biomass energy, offshore wind and recycled waste energy.
A series of public information events is being staged at locations between Liverpool and Salford.
The masterplan takes in the planned expansion of the Seaforth River Terminal at the mouth of the Mersey and adds new ports along the Manchester Ship Canal at Wirral, Bridgewater, Ince, Warrington and Salford.
Peel Ports Mersey managing director Gary Hodgson said: "The purpose of the masterplan is to clarify our own strategic planning for the medium to long term - and inform all of our stakeholders; from regional and local planning bodies and transport network providers to port users, employees and, very importantly, people living in local communities, as to how they can expect to see the port and ship canal develop over the coming years.
"This will be an extensive consultation, and we are asking people to get involved and tell us what they think.
"All written views will be carefully considered and will help to shape the final version of the masterplan."