Defibrillator plea after boy's life saved at Wigan gym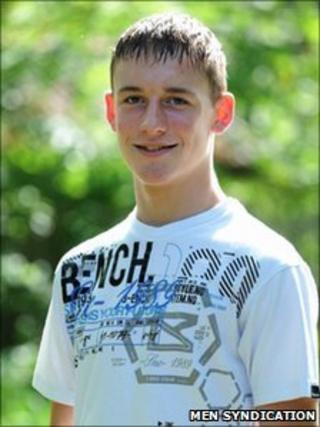 Ambulance bosses have renewed calls for defibrillators to be placed in all public places after a boy's life was saved in Greater Manchester.
Teenager Patrick Horrocks suffered a heart attack while exercising at Hindley Leisure Centre in Wigan.
His life was saved when gym staff used a Automated External Defibrillator (AED) machine to shock his heart.
North West Ambulance Service (NWAS) said it showed the importance of having AEDs in gyms and exercise areas.
Patrick, 15, of Hindley was using the cross trainer in the gym when he collapsed on 17 May.
Fitness instructor Nick Hill, who went to his aid, found he had stopped breathing so began CPR and instructed a colleague to call an ambulance and get the AED machine.
Duty supervisor Dave Collins placed the AED on Patrick as instructed by the machine itself and, within minutes, Patrick had regained consciousness.
'Terrifying moment'
Patrick said he had just started a run on the treadmill when "it all went blank".
"I just remember pressing the emergency stop button because I couldn't be bothered and then I woke up with paramedics putting oxygen masks on my face," he said.
"I didn't have a clue what was going on."
Patrick was later diagnosed with a genetic heart condition called hypertrophic cardiomyopathy.
He was later fitted with an internal heart monitor that tracks his heartbeat.
Mr Collins said it was the first time he had used the equipment in an emergency.
"It was obviously a terrifying moment, especially when you see a young lad dying in front of you," he added.
Patrick's dad Damian Horrocks, 36, said they had no idea their son suffered from the condition and were grateful to the gym staff.
"We're just thanking our lucky stars," he said.
"If he hadn't been here [the gym] and there wasn't a defib, he wouldn't be here today."
The AED had been placed at Hindley Leisure Centre as part of the Community Resuscitation Scheme spearheaded by NWAS.
Manager of the scheme, David McNally, said the incident supported NWAS's aim to have AED's more widely available.
"This incident highlights the importance of quick intervention when an individual goes into cardiac arrest."