Take That tickets: Police 'may investigate' complaints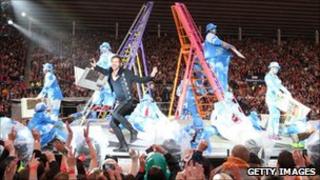 City of London Police are considering investigating claims that Take That fans have not received tickets bought online for the Progress Live tour.
A force spokesman said they were looking at information from the National Fraud Intelligence Bureau.
He said he could not confirm details on how many fans or gigs were involved but said police were analysing the claims.
No-one from the site at the centre of the claims - ticketindex.net - was available for comment.
Consumer watchdog Safeconcerts.com also said fans had complained to it about tickets bought on the ticketindex.net website.
A total of 1.75m tickets have been sold for the tour, which sees the original five members of Take That together on tour for the first time since 1995.
The band kicked off the 36-date tour in Sunderland on Saturday, performing to 54,000 fans at the Stadium of Light.
They will then play in Manchester, Cardiff, Dublin, Glasgow and Birmingham before moving on to Wembley Stadium in London.
'No control'
Emma Gittens, from Cheshire, paid £700 for seven tickets for the band's performance at Manchester's Eastlands stadium on Sunday, but has yet to receive them.
Ms Gittens said: "I got an e-mail through a couple of days ago saying their allocation of tickets hadn't been successful and they had tried everything they could to get these tickets."
She added: "I was told I would receive a refund that day but it is still not in my account."
Derren Nugent from Safeconcerts.com, whose website has scores of comments complaining about Ticket Index, said: "As far as we can see there are no controls in place, anyone can set up business as a secondary ticket seller - it's scary."
More than 100 people who have posted on the Safeconcerts website have complained that they received e-mails from Ticket Index saying their allocation had not arrived.
Many say they have not received a refund.
One of the messages said: "(I) bought two tickets for Take That this Saturday at Manchester, as you will all know they haven't arrived. I have made over 100 calls to Ticket Index in the last two days but still haven't got through."
Another added: "I thought I would cheer the girls up as our husbands would be fighting in Afghanistan whilst TT were touring… no-one is picking up the phone and I've e-mailed them stating if no tickets by next week I want a full refund."
The City of London Police said anyone who thinks they may have been affected by a ticketing or other scam should contact Action Fraud.