Angel Meadow murder: Several leads from BBC Crimewatch appeal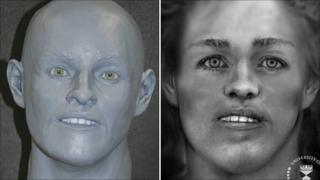 Detectives in Manchester are following several potential names for a mystery murder victim after a BBC Crimewatch appeal.
A number of people contacted officers after a facial reconstruction of the woman was revealed on Tuesday night.
Forensic experts reconstructed her face from remains found at a building site on Angel Meadow in January 2008.
Det Ch Insp Joanne Rawlinson, leading the inquiry, said the programme had thrown up "interesting leads".
She said on Wednesday that calls were continuing to come in following the programme.
Ms Rawlinson said officers were now examining leads, but added: "We haven't had the same name twice as yet."
Violent death
The unidentified victim was aged between 18 and 35 and was born between 1950 and 1954. She is believed to have been killed in the 1970s or 1980s.
She was a modern day size 12, was probably European and had a missing first upper right tooth which would have been visible when she smiled.
Greater Manchester Police (GMP) believe she suffered a violent death.
Post-mortem tests revealed fractures to her neck and jaw. Detectives have also revealed that she may have been sexually assaulted.
An anthropology professor created a forensic facial reconstruction and image from the woman's skull, and police have urged people to look closely at the image to see if they recognise her.
Her body was found alongside a green pinafore dress with large buttons, a jumper, bra and a pair of stiletto shoes, and a Guinness sign. Three different carpets - orange, blue and dark blue - were also found.
Detectives have revisited old murder inquiries and checked missing persons lists.
DNA tests have shown that there was no match to two convicted killers, Peter Tobin and Ronald Castree, police said.
Detectives said they were now examining the DNA of 400 other people who have similar profiles to the woman.
As a result of their inquiries, officers have reunited six people with their families, eliminated 21 missing persons and located a further 46 women.