Clare Wood coroner in domestic violence 'right to know' call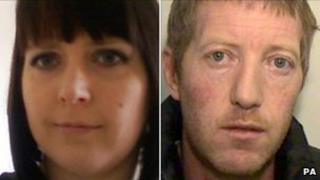 A coroner has called for women in abusive relationships to have a right to know about a partner's violent past.
Bolton Coroner Jennifer Leeming recorded a verdict of unlawful killing by strangulation on Clare Wood, whose body was then set on fire.
Ms Wood, 36, made several complaints to police about George Appleton before her death in Salford in February 2009.
Ms Leeming backed an Association of Chief Police Officers (Acpo) call for disclosure of information to partners.
Acpo proposes allowing people at risk the right to know of "relevant information in the possession of the state".
Ms Leeming quoted the document, stating although people had "concerns" about information collected and held by the state, potential victims had the right to know so they could make an "informed choice".
"That to me carries great force," the coroner added.
"I will report that proposal to the appropriate agencies in accordance with the suggestions made to me in evidence, including being supported by the family of Clare Wood."
Kidnapped at knifepoint
The coroner made a number of other recommendations, all to go to "interested parties" involved in criminal justice and domestic violence, which included closer working between police and the Crown Prosecution Service (CPS) after the latter were not kept informed of the growing threat posed by Appleton.
Ms Leeming also said police should prepare an evidence file to go to the CPS within the national guideline of three weeks for domestic violence cases.
In Ms Wood's case, it took more than three months for the police to prepare a case.
During that time Appleton repeatedly broke the terms of his bail but was still free to stalk and murder his victim.
He was found hanged in a derelict pub six days after Ms Wood's killing. An inquest into his death found he committed suicide.
She met her killer on the social media website Facebook unaware of his history of violence against women, including repeated harassment, threats and the kidnapping at knifepoint of one of his ex-girlfriends.
Police 'failures'
Her father Michael Brown, the victim's father, had questioned why women could not be warned about such violent men earlier during the inquest.
Speaking after the inquest the former prison officer from Batley, West Yorkshire, said: "As the number of women who end up in my daughter's position is significant, I think it needs to be addressed at a national level.
"If you were in danger, wouldn't you want to know? The ladies in this country are not being warned."
Mr Brown, originally from Aberdeen, added: "The only protection through the law is for the perpetrator - for his human rights.
"There's no more human rights for my daughter."
In the months before her murder she had repeatedly contacted Greater Manchester Police (GMP) claiming Appleton had caused criminal damage, harassed, threatened to kill and sexually assaulted her.
The Independent Police Complaints Commission concluded Ms Wood was let down by "individual and systemic" failures by GMP.
Appleton, from Adelphi Court, Salford, was known to search for women on online dating websites and social networking sites, including Facebook.