Ryan Giggs: Reporters' cars attacked by masked gang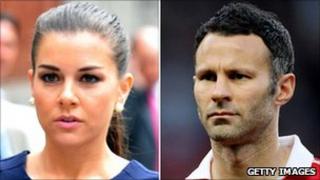 Cars belonging to journalists and photographers camped outside the home of Manchester United footballer Ryan Giggs have been vandalised.
A group of masked men pulled up in a Transit van on the street in Worsley, Salford, and attacked six vehicles.
Reporters said tyres were slashed and cars were kicked and covered in flour and eggs.
Greater Manchester Police were called to the scene earlier and said inquiries were continuing.
'Ban him'
Giggs was named in Parliament as the married footballer exposed on Twitter as having an injunction over an alleged affair with reality TV star Imogen Thomas.
The 37-year-old midfielder is United's most senior player, having appeared in 613 games for the club since 1990.
Giggs was earlier absent from an open training session in front of the world's media, as part of United's preparations for the Champions League final against Barcelona at Wembley on Saturday.
Manager Sir Alex Ferguson was caught on tape asking a press officer to ban a journalist who had asked a question about the Welshman during a press conference.
Associated Press (AP) reporter Rob Harris asked how important Giggs was for Saturday's Champions League final against Barcelona.
Sir Alex replied: "All of the players are important, every one of them." He then moved on to another question.
No jurisdiction
He was later overhead on a microphone telling a press officer to "ban him on Friday". Another press conference is scheduled the day before the Champions League final.
A United spokesman pointed out that as Friday's event is organised by Uefa, the Old Trafford club has no jurisdiction to ban Harris.
Lib Dem MP John Hemming named Giggs during an urgent Commons question on privacy orders on Monday.
Using parliamentary privilege to break the court order, he said it would not be practical to imprison the 75,000 Twitter users who had named the player.
Mr Hemming, Birmingham Yardley MP, on Tuesday denied accusations that he had abused parliamentary privilege by naming Giggs.
The Lib Dem MP argued he had not used privilege at all as he could have named the player outside the Commons - because his name was already public.